About us
Aquapac-Aquaman Deutschland GmbH:

Since 1994 we are the exclusiv distributor for Aquapac for Germany, Austria and Switzerland. We started as "Aquaman". Our company is based in Bückeburg, Lower Saxony, Germany.

---
Our Shop
In our shop you find all Aquapacs. And products, which will be exclusiv for you and could be ordererd in our shop only.
Our SSL-certificat guarantees the highest security for every transaction. So you can go shopping in our shop without any worries. And we respect your privacy. We promise.
---
Before Google

We are in the net for about 20 years now. 4 years before Google. We had one of the first online-shops in Germany. Search-machines were happy to found us.
---
Headquarter:

Aquapac International Limited is based in London, England and is home of management, development, design, production and distribution since 1982. Aquapac is world market leader in waterproof cases. The products are sold in more than 60 countries. We have an own design-team, with designers who were educated at the best design-schools. Our modern high frequency welding machines to weld the foil are served by well trained personal.
---
How it started

The company startet in a pub in London – where else? Three enthusiastic wind surfers met there to have a beer. And had the idea to listen to their favourite music when on board. During this time the first walkman was on market. Shortly afterwards the first waterproof cases…

---
Awards

Last year Aquapac was honoured with the Queen's Award for Innovation. That followed a previous Queen's Award for Export Achievement. At the end of the 1990s the British Design Council selected our Aquaclip® sealing mechanism as a Millennium Product. Two more Queens Awards followed, the - for now - last in summer 2012 when Aquapoac was honored for the sucess in export.

---
For your satisfaction

As you can see we take care of our products for years now. We stay in contact with our customers and looking for the best solutions every time. And looking for new stakes always. You can use your Aquapac in your leisure time for biking, hiking, trekking, snorkelling, diving, swimming or what else. Or you can use it in your business: if you have to work outside under extreme weather-conditions, in icy hall, in the stable or where else. Everywhere where your electronical equipment could be damaged: by rain, snow, fog, dust, sand or dirt. Special whises our customers could be fulfilled quick and to the point.
---
For the big clients

Even special orders of the industry are not a problem. For example you need maybe some hundred cases for a special event or a campaign with the brand and/or the colour of your company on the Aquapac? No problem. We worked with T-Com, Viag Intercom, Debitel, e-plus, NTTDoCoMo of Japan, Siemens, Nixdorf, Motorola, Nokai, Canon, Kodak, Mitsubishi, Renault, Volvo or Yamaha.
---
Distributors

Aquapacs are sold by big retail-shops like Globetrotter, AW Niemeier, Compass or Gravis in Germany. Or Cotswold, ellis brigham or blacks in the UK. Even german or british armed forces or police are using Aquapacs in combat.

---
Our Service

All customers are equal. If you order until 1.30 pm your order will leave our house the same day. If its later and you need your Aquapac as soon as possible please send us a message. A couple of years ago, we send an order directly to the airport in the afternoon. So our customer could take his Aquapac to the Maledives the next morning…
---
Our Philosophy

We make less advertising. So we need satisfied customers and their mouth-to-mouth-propraganda. So our reputation is our future.
Our Philosophy: To make for you products that we ourselves would want to own. And to treat all our customers the way we ourselves would like to be treated.

---
Environment

As a company dedicated to helping people get more from their love of the outdoors, we think it's important that we do what we can to minimize our impact on the environment.
This is nothing new. Aquapac has always sought to do the right thing in matters environmental.
Our products are made of plastics (i.e. petroleum-based). It would be nice if we could make them from bamboo or hemp, and maybe that's not as whimsical as it sounds! We know of one or two emerging technologies that could make these seemingly fantastical pipe-dreams into an achievable reality. You can be sure that we'll be keeping a keen weather eye on these new developments.
---
100% PVC-Free

In the meantime, although it's costing us a whole lot more, we've committed to move our entire production to a more environmentally acceptable plastic.
Last year (2008) we are going 100% PVC-Free. For our foils we are using PU (Polyurethan), a high quality and flexible coating with a high density.

We seek to use materials as economically as possible, keeping off-cuts to a minimum.
Other than a tiny amount of glue used on a small number of cases, our manufacturing processes employ no toxic products, and generate no toxic waste.
Although there are varying opinions on the effects of PVC on the environment, we are nonetheless sourcing materials that have more universally-accepted environmental credentials

---
Biodegradable Packaging

Aquapac stopped using PVC retail packaging a couple of years ago. At that time we moved to PET clamshells. Since the beginning of 2007 Aquapac has been trialling recyclable boxboard packaging. And trialling PVC-free, PU cases also.
From January 2008 all Aquapac's retail packaging worldwide will move from PET clamshells to recyclable boxboard backing and header cards. Accessory packs will be made of degradable polythene, which is 100% compostable. The polybags that the products are shipped to dealers in will be made of potato starch, which is 100% compostable. We could have cook our lunch out of them.
---
End-of-Life Recycling

Aquapac is committed to doing its part to protect and preserve the environment. This is in the interest of protecting and preserving the Great Outdoors which we love and enjoy, for the benefit of ourselves and of future generations. We can all make a positive difference - simply by thinking carefully before sending any waste to landfill. When Your old Aquapac has reached its end just put it in the yellow bag. It can be recycled.

---
Fossil Fuels

Apart from the plastics our cases are made from, the biggest part of our carbon footprint in London is our electricity use. Our high-frequency welding machines run on electricity. We're not talking big figures though. Our total fuel bill in London last year - both offices and factory - ran to less than £3k. The headquarter of Aquapac-Aquaman Germany GmbH is residing in a low energy house.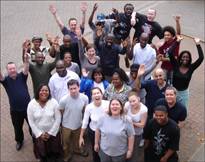 ---
What is our philosophy?
We rarely advertise. The chance of hearing from us through word-of-mouth and recommendations is high. Therefore our reputation is our future. We cannot afford unsatisfied customers.
To make for you products that we ourselves would want to own. And to treat all our customers the way we ourselves would like to be treated.