Aryca GT7'' Mini-Tablet Hardbox
Protective Mini Tablet case especially for Samsungs Galaxy 7''
Inner Size: 195 x 130 x 15mm (Attention: iPad Mini no fit. Please measure your device).
Waterproof up to 1 meters depth
Sand- and dust proof. And snow proof.
Make phone calls. Listen to your music.
Or take some videos with a special lense on the backside.
Touchscreen works through the silicon-foil
hard polycarbonate-frame. Absorbs shocks out of 7 m high.
Simple Twist-Lock design
supporting stand
flots with additional lanyard
Or take pictures underwater*
Content not included in the delivery.
* Underwater photography warning!: *Capacitive touchscreens don't work underwater, so you may find it difficult to take photos underwater. To take video underwater, simply start filming above the waterline.
The Aryca GT7'' fits for most Mini Tablets, e-Book Reader, Play Book or Flyer. Inner Size: 195 x 130 x 15mm (Attention: iPad Mini no fit). Be aware, that not all knobs are operable through the polycarbonate-frame. But the touchscreen works through the foil.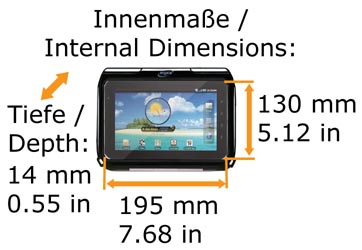 ---
The IPX-norm

Swimming and snorkeling: Our submersible range is all guaranteed to IPX7, which means waterproof up to one meter for a short time. And dustproof too.
---
Supplied with:
It comes in black or white
It comes with an adjustable neckcord in black or white so you can hang it round your neck.
---
The shipping costs are independend and do not vary depending on the amount of articles in your placed order:
Germany: 3,90 Euro
Europe incl. Switzerland: 6,90 Euro
Rest of the World: 16,90 Euro
---
How long will the shipping take?
Austria, Switzerland and BeNeLux: 2 to 4 labor days
Rest of Europe: 3 to 7 labor days
---
How could I improve this page?
If we're missing any information about this item which would be helpful, or if you have found something that is confusing or in error, please Tell Us so we can improve our site.
Relaxing on the beach, in the pool, on a boat or in a kayak, even on skis - nothing can happen to your tablet! You can even take videos and photographs up to 1 meter under water.
Surf the internet effortlessly on your mobile device thanks to the flexible Silicone topcoat. Or read your book on the beach. No sand between the pages.
The Aryca Tablet waterproof case is specially designed for 7" tablets.
Unsere Marken