Waist Pack
Details:
1 size, 3 colours: acid green, cyan blue or matt black. The capacity is around 4 Litres.
Testet to IPX6*
The Waist Pack is designed with a large, comfortable mesh padding strap to hug your waist during activities. It has a simple, single buckle which can be adjusted and moved to suit your movement and clothing.
The Waist Pack rolls down with a classic drybag-style rolltop closure, and is rainproof when closed.
The front pocket has a splashproof zipper and is perfect for phones or quick-access items during muddy or showery days out.
The main compartment has another small, zippered mesh pocket for cash and credit cards, and a key loop so that you can't lose your keys.
TrailProof™ range is characterised by rugged 500D vinyl fabrics and an all-welded construction for proofing against rain, mud and sand. The colours are fun and bright to help them be seen, and so they don't get too hot in the sunshine.
Content not included in the delivery.
* Tested to IPX6, which means as waterproof as you can get without actually immersing the bags underwater. Fire-hose proof! The testing: Protected against heavy seas - Water projected at all angles through a 12.5mm nozzle at a flow rate of 100 liters/min at a pressure of 100kN/m2 for 3 minutes from a distance of 3 meters.
How big is the case?
The Waist Pack Belt case will comfortably keys, cash, passports, small cameras, mobile phones and mini tablets. Inner size closed: 32cm x 17 cm x 8cm. Weight: only 381g. The belt has a length of 133cm (52,4in).
---
Our categorization:

On tour even if it rains cats and dogs: Our stormproof range of roll-seal bags is all guaranteed to IPX6, which means as waterproof as you can get without actually immersing the bags under water. Fire-hose proof!
---
What keeps water, sand & dust out?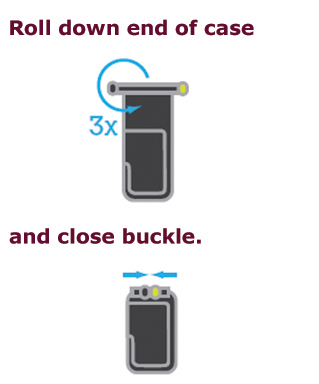 Roll down the upper end of the bag three times and close the buckle. And no rain, water, sand or dust will intrude anymore.
Supplied with:
Comes with an adjustable waist belt
two additional waterproof pockets
---
The shipping costs are independend and do not vary depending on the amount of articles in your placed order:
Germany: 3,90 Euro
Europe incl. Switzerland: 6,90 Euro
Rest of the World: 16,90 Euro
---
How long will the shipping take?
Austria, Switzerland and BeNeLux: 2 to 4 labor days
Rest of Europe: 3 to 7 labor days
---
Buy With Confidence
This bag was designed in England. We could have given the usual two-year warranty. But to show you our confidence in our product, we give an extended manufacturer's warranty in addition to the statutory warranty. The statutory warranty applies for the first two years after the date of purchase. From the third year after the date of purchase, we voluntarily grant an additional warranty of three years. You can find out more here.
And: With every bag you will receive an instruction manual in correct German (and correct English, French ...). With a lot of tips for the best results.
---
How could we improve this page?
If we're missing any information about this item which would be helpful, or if you have found something that is confusing or in error, please Tell Us so we can improve our site.
Overview
Ideal if you're on holiday, working or relaxing in or around water. The Waist Pack is ideal for keys, car immobilisers, cash, credit cards, mobile phones, passports or even mini tablets.
---
What our customers say:
"I am a professional outdoor instructor and I think that your kit is excellent. In adverse situations I always use Aquapac!"
Ian Mill, UK (2001)
"I use quite a few of your packs and they are truly excellent."
Tim Fulford, UK
---
What the Press say:
"If you're looking for a safe way to carry your valuables while you take a dip - or when you go boating, or bushwalking in wet weather - these Aquapac cases will do the job."
Choice Review, Australia
"It's not often that I get products for review and am completely happy with them, but the bag they sent me is brilliant…. It looks stylish and feels very durable. It will be accompanying me on many trips over the coming years."
Matt Heason, PlanetFear, www.planetfear.com, UK
Unsere Marken