Connected Electronics small
Details:
Use your equipment normally in the case as sound and signal pass right through the material.
with a special wire-through clamp at the side. So you can lead a cable of not more then 2,5mm to the outside. For the cable for your charger for example.
If using a stylus, it can be used normally through the clear window on the case.
The airtight seal means your equipment will float safely if you drop it in water.
with adjustable hip belt up to max.115cm hip circumference.
Fits for Sennheiser, Shure, Sony & Co.
CAUTION! We recommend the case for surface use mainly. Not for continued submersion.
If you use this case for your insulin pump, please read our safety advice under "in use".
Fits for helmet cameras too
Content not included in the delivery.
How large is the case?
Dimensions: Maximum size of equipment to fit in case:
Length: 7,35in/185mm
Circumference: 7,5in/190mm
The belt has a length of 115cm (45,3in).
---
Size of the largest electronic that fits: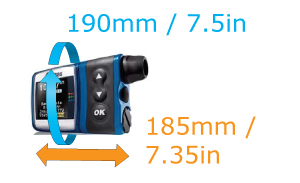 ---
Overview:
The Connected Electronics case features the 'TC' Aquaclip a wire-thru seal which is watertight allowing wires up to 2.5mm (1/10th inch) thick to be used with your equipment.
---
What stops the water getting in?

The connectec electronics are tested to IPX6, which means as waterproof as you can get without actually immersing the bags underwater. Fire-hose proof! The testing: Protected against heavy seas - Water projected at all angles through a 12.5mm nozzle at a flow rate of 100 liters/min at a pressure of 100kN/m2 for 3 minutes from a distance of 3 meters. Floating on the surface is no problem, submersible for a very short time.
---
What keeps water, sand & dust out?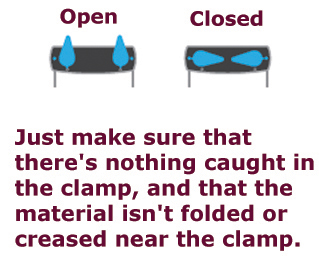 The patented Aquaclip® seals the case - with a simple twist of a couple of levers. It's been tested to the toughest international waterproofing standards. If you haven't seen one before, read our quick guide to the Aquaclip.
---
How have you improved this case recently?
2008 sees us going '100% PVC-Free'. Our new material (TPU) offers a number of advantages:
It's softer and more malleable. Making it even easier to operate your PDA or Smartphone controls through the material.
It'll perform much better if you want to take it somewhere really cold. It'll still be soft and malleable at -40º and below.
It has a greater tensile strength, meaning it's even more difficult to tear or rip apart.
We've added optically-clear LENZFLEX windows to the back making the Aquapac cameraphone-friendly.
Supplied with:
an additionalwire thru closure.
A detachable neck cord.
An adjustable belt (max. 115cm/45,3in.)
---
The shipping costs are independend and do not vary depending on the amount of artikles in your placed order:
---
How long will the shipping take?
Austria, Switzerland and BeNeLux: 2 to 4 labor days
Rest of Europe: 3 to 7 labor days
---
Buy with confidence:
This bag was designed and manufactured in England. We could have given the usual two-year warranty. But to show you our confidence in our product, we give an extended manufacturer's warranty in addition to the statutory warranty. The statutory warranty applies for the first two years after the date of purchase. From the third year after the date of purchase, we voluntarily grant an additional warranty of three years. You can find out more here.
And: With every bag you will receive an instruction manual in correct German (and correct English, French ...). With a lot of tips for the best results.
---
How could we improve this page?
If we're missing any information about this item which would be helpful, or if you have found something that is confusing or in error, please Tell Us so we can improve our site.
Overview:
The Connected Electronics case features the 'TC' Aquaclip a wire-thru seal which is watertight allowing wires up to 2.5mm (1/10th inch) thick to be used with your equipment.
---
Use of Aquapac cases with Insulin Pumps:
Aquapac have commissioned research* by Imperial College London into the use of the 154 (Radio Microphone case) and 554 (Connected Electronics case) after receiving a large number of customer enquiries regarding their suitability for use with insulin pumps. Results show that, in some circumstances, insulin flow rate can be reduced by the case. In particular, low flow rates are impeded, and as such Aquapac can make no claim regarding the suitablity of these cases with insulin pumps. Use of these cases for insulin pumps is entirely at the discretion of the user. Aquapac has been advised to recommend that users of Aquapac cases with insulin pumps regularly check their blood sugar levels.
The tests were conducted by Imperial College of Science, Technology and Medicine using a Roche Accu-Check Spirit insulin pump at a temperature of 20C at flow rates of 2U/hr and 10U/hr.
The amounts of insulin delivered over 60 minutes observed were as follows:
2U/hr not in case - 0.0131g (flow rate of 100%)
2U/hr in Aquapac 154 - 0.0106g (flow rate of 81%)
2U/hr in Aquapac 154 - 0.0056g (2nd test model)(flow rate of 42%)
2U/hr in Aquapac 554 - 0.0121g (flow rate of 92%)
10U/hr not in case - 0.0864g (flow rate of 100%)
10U/hr in Aquapac 154 - 0.0878g (flow rate of 100%)
10U/hr in Aquapac 554 - 0.0903g (flow rate of 100%)
*Tested in august 2006
---
What our customers say:
"I have to thank you and your company for such a fine product. My son has never experienced swimming without hearing thanks to you. He lost his hearing to illness as a baby and got implanted right away so has never really experienced "deafness". He always wears his CI and with all the time we spend at the beach and pool, his "water ears" have become one of his best friends. This summer, he plans on learning how to sail. He doesn't know sign language and can't read lips so if he couldn't hear, he wouldn't be able to play with anyone else - and besides, how many strangers at the beach know sign language? He can, and does, play with any other child that comes up to play."
Suzanne Bidwell, USA
"To Aquapac. My Name is Susi Koch and I'd like to let you know that your Aquapac cases have been a wonderful find. I have a 6 year old son, Eric, who is an Insulin Dependant Diabetic and wears the insulin pump. We have discovered that your small wire-thru case is the perfect size to hold a small insulin pump. It is so much easier to go to the pool and especially the beach now that we don't have to worry about the pump getting sand and debris in it. The neoprene case is the perfect compliment to the small wire-thru case in that it enables Eric to wear the pump comfortably. I own a small company where I design and sell insulin pump packs for kids and adults. I've added some of your Aquapac cases to my website and I have to say that customers are very excited. Thank You!"
Susi Koch, E K Access, USA www.ekaccess.com
Unsere Marken