DiCAPac Smartphone Case medium waterproof
fits only for the vaccination card in the size width 93 mm x height 130 mm. For the vaccination passport in size 103 x 142 mm please look here.
Details:
100% waterproof pocket for your vaccination card.
clear front, immediately visible
floats with contents due to a special, integrated air cushion
also suitable for all medium-sized smartphones, with which the vaccination certificate can also be presented immediately, even in pouring rain.
You call through the clear film of the case's front
Reception (including Bluetooth), speaking, listening, ringtone, GPS signal , operation and touch screen are also not a problem with the case
special clear view window on the back. This allows you to take pictures with the phone's camera underwater.*
Guaranteed 100 % waterproof to 10 meters water depth. Tested to IPX8
Secure and reliable locking system with both zip closure and double rollable velcro
The UV-stabilized PVC/PC material will not break by sunlight or get yellow
The bag also protects against dust and sand. And also against suncreme
six colors available: black, white, yellow, green, pink and blue. The colors the new iPhone5c also comes in
swims with content through a special integrated air cushion
Content not included in the delivery.
* Underwater a touch screen does not work in general. Photo release therefore is possible only by key. Our tip: please download the app "Cameringo" or a comparable Apple App that allows underwater photo release on the volume button. For videos, you can switch the function above the water line.
Does your cell phone or GPS fit?
The medium smartphone-/cellphone case is specially cut to the size of devices with screens over 4,5''. So it fits Galaxy S3 or 4. Or Notes. Or the Nexus. But also comparably sized smartphones other manufacturers. To find out if your device fits, measure and compare with the graphic below.
---
Size: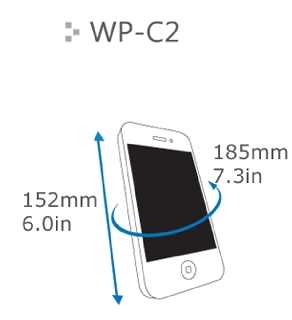 maximum size of your electronic that fits in the case
Outer size of the bag flat: 105mm x 165mm, weight: 50g, material: TPVC, PC.
---
The IPX-norm
Swimming and snorkeling: Our submersible range is all guaranteed to JIS IPX8, which means continuous immersion under conditions of the manufacture`s choice. Japanes Industrial Standard testing is to the equivalent of 10m/33ft for 1 hour.
---
What keeps water, sand & dust out?
the approved zip and roll seal keeps water, sand and dust out of the case. Just zip roll twice and secure it with the velcro. For maximum waterproof and saveness.
---
Will I really get good photos through plastic?
Yes! We use a special flexible lens material, unscratchable polycarbonate. It's optically-clear. You get the lens material on the back of the case, so you can use your camera on the back of your smartphone. The Window is large enough so that it fits for all kind of smartphones. And the sturdy but flexible material at the front allows you to operate all the controls.
Ok, not every photo is going to be perfect. But we're all used to that aren't we! Most of the time nobody will be able to tell you were using a case.
Supplied with:
It comes with an adjustable neckcord so you can hang it round your neck
in six different colors
---
What does shipping cost?
We ship your order in our online store by DHL or Deutsche Post.
The shipping costs are independent of the quantity as well as the weight of the ordered goods.
The shipping costs are shown depending on the country of delivery in the order process. More information here.
We ship in Germany and Europe including Switzerland.
---
How long does the shipping take?
Germany: 1 to 2 working days
Austria, Switzerland and BeNeLux: 2 to 4 working days
Rest of Europe: 3 to 7 working day
All shipping methods are traceable. Please ask us if it should take longer. If you order online, you will receive a shipping notification by email within one business day.
If you're the active-in-the-Great-Outdoors type and you need to take your expensive feature packed smartphone with you then the odds are seriously stacked against its surviving very long. Unless the smartphone or iphone™ is already 100% waterproof - is yours? Have you ever lost a phone to water damage? If not, you've been really lucky… so far! Depending on who you talk to, something between 10% and 25% of all mobile phones end up ruined by water. Or unless you protect it inside a 100% waterproof Dicapac.
If like a lot of people nowadays the main reason you take your phone with you in the first place is as a safety device - so you can call for help if you get into trouble - isn't it doubly important that you can trust it to work when you need it to? Or your office and all contacts are on the smartphone. Just imagine everything is destroyed by water. Better not.
Tuck your phone safely inside an Dicapac and you'll be able to take it and use it wherever you want to go and whatever you like to get up to. Even the touchscreen works.
Customer who bought this product also bought:
Unsere Marken