DiCAPac WP-S5
100% waterproof case for DSLR or SLR cameras with interchangeable lens.
roll-up closure seal: 100% waterproof protection down to 5m water depth according to IPX8 (JIS, Japan Industrial Standard)
polycarbonate quality lens (clear and hard to break). The lens has a 3-layer coating both inside and outside: UV coating, Water repellent coating, Scratch resistance coating for quality pictures. Screwable
secure sealing system with zip closure and overlying cylinder seal closure
all operatable from the outside. With integrated finger shoe for easy actuation of the trigger
clear back to see the display
for thinner cameras. Internal dimensions: width 160 x height 175 x depth 60mm. Maximum lens size: length from 50 to 95mm, maximum diameter of objectiv: 90mm
Please check our size list to see if your camera fits
additional lens availabe here
Content not included in the delivery.
waterproof DSLR-/SLR Case
wide neck or shoulder strap
fixation sponge
from PVC, TPU film, ABS, PC and silicones
Outer imensions: 270 x 230mm
Weight: 450g
Color: black
Made in Korea according to ISO 9001
---
Maximum size of camera and objectiv: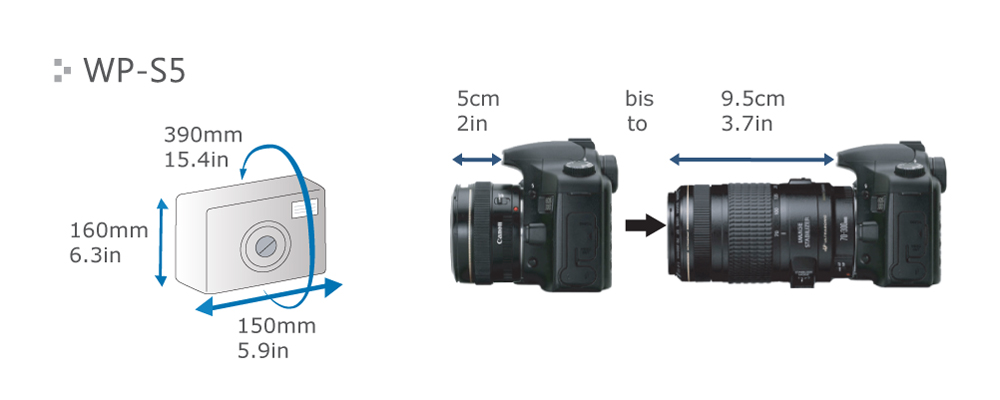 Please check our size list to see if your camera fits
---
The IPX-norm
Swimming and snorkeling: Our submersible range is all guaranteed to IPX8, which means continuous immersion under conditions of the manufacture`s choice. Imperial`s testing is to the equivalent of 5m/15ft for 1 hour.
---
Before using the case
Before using the device for the first time and each time it is used, please read the operating instructions enclosed with each article and carry out a leak test. The bag must not be used if water penetrates.
---
Will I really get good photos through the lens?
Yes! The special unscratchable lens is optically-clear. You get a clear window on the back of the case and an extra inner finger, so you can use your camera through the foil. And the sturdy but flexible material allows you to operate all the controls.
Ok, not every photo is going to be perfect. But we're all used to that aren't we! Most of the time nobody will be able to tell you were using a case.
Supplied with:
It comes with an adjustable and detachable shoulderstrap so you can hang it round your neck or shoulder.
It comes with a sponge and dessicant sachets.
---
What does shipping cost?
We ship your order in our online store by DHL or Deutsche Post.
The shipping costs are independent of the quantity as well as the weight of the ordered goods.
The shipping costs are shown depending on the country of delivery in the order process. More information here.
We ship in Germany and Europe including Switzerland.
---
How long does the shipping take?
Germany: 1 to 2 working days
Austria, Switzerland and BeNeLux: 2 to 4 working days
Rest of Europe: 3 to 7 working day
All shipping methods are traceable. Please ask us if it should take longer. If you order online, you will receive a shipping notification by email within one business day.
Overview:
Now that you've got this expensive SLR camera you of course want to just seize every opportunity to use it whether on land or underwater to take those photos of the moments and sights you want to cherish. There is that one problem though - water, sand and dirt always seem to get in the way in the great outdoors. These elements do not do well with any equipment and your expensive SLR is certainly no exception.
To be able to enjoy your camera and your photographic activity to the fullest wherever you go, Aquapac provides that added protection against these hated substances that can just about ruin your camera and all those beautiful photos as well as allow you to go beyond the once forbidden - to take photos underwater safely.
With this professionally tested and guaranteed 100% waterproof case you can actually maneuver the controls through the case and focus the lens protected by its hard lens housing. Who wants to risk having their expensive equipment fall overboard without being protected?
Makes a perfect gift for outdoor use.
---
Will I really get good photos through the plastic?
Yes! The special hard tube on the case provide a rigid housing for the lens and It's optically-clear. And the sturdy but flexible material and an inner finger allows you to operate all the camera controls.
Ok, not every photo is going to be perfect. But we're all used to that aren't we! Most of the time nobody will be able to tell you were using a case.
---
Tips from a Pro:
To Disperse Water Droplets on the Lens: Most Pros use Rain-X. The guys in Maui use half an onion and rub it on the lens. But my personal favourite is to use waterproof sunscreen - the higher the factor the better. When you dip the lens just lift it clear of the water and blow the droplets off.

Opening/Closing: Never EVER open the case with wet hands. Only ever insert/remove the camera with the case completely upside down, with the opening at the bottom.

Taking shots: Rather than shooting in normal style of looking at what you see through the view finder, start shooting at what you are pointing the camera at you will get the hang of it. Feel free to look at the images on my site under kite-surfing and see the results we get.

Chris Skone-Roberts is a professional watersports photographer.
Customer who bought this product also bought:
Unsere Marken