Stormproof Camera-Case medium
Our stormproof Camera Case medium of Aquapacs Stormproof Range of roll-seals bags for your medium size camera.
For all Outdoor-Fans, who won`t worry about their camera.
Manufactured from TPU-coated Nylon, welded seams. 100% PVC-free.
A classic 3-roll seal for complete waterproofing to IPX6 (fire hose proof).
With adjustable waist-belt.
And it's got thick foam padding all-round for protection from impacts.
The UV-stabilized TPU material won't be broken down or discoloured by sunlight.
It keeps out dust and sand, too.
Content not included in the delivery.
What fits?
The Aquapac Stormproof and padded Camera Case fits your medium-camera.
---
Inner and outer size of the case:
Biggest size of your camera to fit:

w 115mm x l 165mm x d 75mm

Outer size of the bag:

w 205x H 180mm x D 85mm
---
Our categorization:

On tour even if it rains cats and dogs: Our stormproof range of roll-seal bags is all guaranteed to IPX6, which means as waterproof as you can get without actually immersing the bags under water. Fire-hose proof!
---
What keeps water, sand & dust out?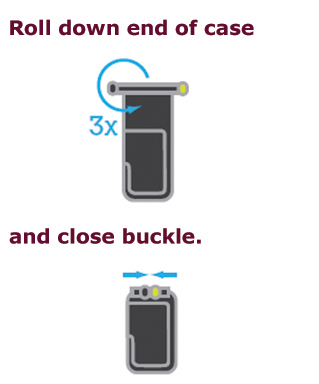 Roll down the upper end of the bag three times and close the buckle. And no rain, water, sand or dust will intrude anymore.
Supplied with:
It comes in black with grey and orange applications.
It comes with an adjustable belt.
It comes with a lashtab.
---
The shipping costs are independend and do not vary depending on the amount of artikles in your placed order:
Germany: 3,90 Euro
Europe incl. Switzerland: 6,90 Euro
Rest of the World: 16,90 Euro
---
How long will the shipping take?
Germany: 1 to 2 labour days.
Austria, Switzerland and BeNeLux: 2 to 4 labor days
Rest of Europe: 3 to 7 labor days
---
Buy with confidence:
This bag was designed in England. We could have given the usual two-year warranty. But to show you our confidence in our product, we give an extended manufacturer's warranty in addition to the statutory warranty. The statutory warranty applies for the first two years after the date of purchase. From the third year after the date of purchase, we voluntarily grant an additional warranty of three years. You can find out more here.
And: With every bag you will receive an instruction manual in correct German (and correct English, French ...). With a lot of tips for the best results.
---
How could we improve this page?
If we're missing any information about this item which would be helpful, or if you have found something that is confusing or in error, please Tell Us so we can improve our site.
Aquapac's Stormproof range of padded, rugged and simple to use camera cases are perfect for outdoor photographers who don't want to worry about their gear. Trail walking, river rafting or a day at the beach, this case leaves you worry-free, allowing you to get on with it whatever the weather. Manufactured from TPU-coated Nylon, it features welded seams and a classic 3-roll seal for complete waterproofing to IPX6 (fire hose proof). And it's got thick foam padding all-round for protection from impacts. Supplied with an adjustable waist-belt, and a lashtab for use with a belt or carabiner, the case also features a unique front lashtab for securing to backpack, kayak, raft or other luggage.
Guaranteed for 5 years from first purchase, worldwide.
To protect your valuables against humidity, please put a desiccant sachet inside the pouch!
Unsere Marken