Jumbo Whanganui forTablet/Laptop
Details:
Ideal for protecting your maps, electronics and personal possessions as your large Tablet, Laptop or Notebook
Touchscreen works through the foil*
Notebook or Tablet up to 15,5'' could be stored safely in the case.
GSM-, WLAN-, Bluetooth- and GPS works through the foil
The UV-stabilized TPU material won't be broken down or discoloured by sunlight
Guaranteed submersible to 33ft / 10m and keeps dust and sand out
It will float safely if dropped in water

in our grey TPU-foil. Suited for people with allergies

Content not included in the delivery.
* Underwater a touch screen does not work in general. Photo release therefore is possible only by key. Our tip: please download the app "Cameringo" or a comparable Apple App that allows underwater photo release on the volume button. For videos, you can switch the function above the water line.
How big is the case?
The Jumbo Whanganui case will comfortably fit maps, small books, suncream, wallets/purses, mobile and personal electronics as the iPad Pro™ from Apple or other larger tablets.
---
Fits for:
| | |
| --- | --- |
| | |
| largest size of your electronic | size of the case |
---
The IPX-norm

Swimming and snorkeling: Our submersible range is all guaranteed to IPX8, which means continuous immersion under conditions of the manufacture`s choice. Imperial`s testing is to the equivalent of 10m/30ft for 1 hour.
---
What keeps water, sand & dust out?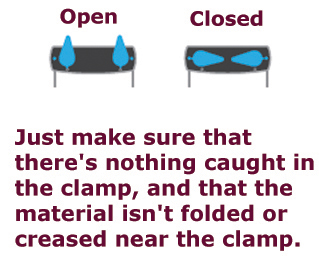 The patented Aquaclip® seals the case - with a simple twist of a couple of levers. It's been tested to the toughest international waterproofing standards. If you haven't seen one before, read our quick guide to the Aquaclip.
---
How have you improved this case recently?
2008 sees us going '100% PVC-Free'. Our new material (TPU) offers a number of advantages:
It's softer and more malleable. Making it even easier to operate your PDA or Smartphone controls through the material.
It'll perform much better if you want to take it somewhere really cold. It'll still be soft and malleable at -40º and below.
It has a greater tensile strength, meaning it's even more difficult to tear or rip apart.
We've added optically-clear LENZFLEX windows to the back making the Aquapac cameraphone-friendly.
Supplied with:
A detachable and adjustable shoulderstrap so you can wear the case comfortably
---
The shipping costs are independend and do not vary depending on the amount of artikles in your placed order:
Germany: 3,90 Euro
Europe incl. Switzerland: 6,90 Euro
Rest of the World: 16,90 Euro
---
How long will the shipping take?
Austria, Switzerland and BeNeLux: 2 to 4 labor days
Rest of Europe: 3 to 7 labor days
---
Buy with confidence:
This bag was designed and manufactured in England. We could have given the usual two-year warranty. But to show you our confidence in our product, we give an extended manufacturer's warranty in addition to the statutory warranty. The statutory warranty applies for the first two years after the date of purchase. From the third year after the date of purchase, we voluntarily grant an additional warranty of three years. You can find out more here.
And: With every bag you will receive an instruction manual in correct German (and correct English, French ...). With a lot of tips for the best results.
---
How could we improve this page?
If we're missing any information about this item which would be helpful, or if you have found something that is confusing or in error, please Tell Us so we can improve our site.
Overview:
Ideal for protecting maps and electronics. Also great for storing and protecting personal possessions on a beach or a boat.
The Whanganui range, named after the Whanganui River in New Zealand, is a range of multi-purpose cases designed to hold a range of items.
---
What our customers say:
'The Jumbo Whanganui Case performed flawlessly, even when we were relentlessly soaked while white water rafting in Denali Park in Alaska... We also used the Small Whanganui Case, the SLR camera case with our Nikon D70, the Flip-Phone Case, and the PDA Classic Plus+. They all worked flawlessly and we expect to use them on many trips to come.'
Ned S. Levi, USA
"We used the Jumbo bag every day on the river, exploring rocky shoals, walking under waterfalls and on treks through swampy ground and dense jungle. It stood up to all kinds of abuse."
Temple W. Harris, Peru
---
What the Press say:
"It's not often that I get products for review and am completely happy with them, but the bag they sent me is brilliant…. It looks stylish and feels very durable. It will be accompanying me on many trips over the coming years."
Matt Heason, PlanetFear, www.planetfear.com
"These cases give you confidence in being able to keep handheld equipment dry onboard… We can vouch for the toughness….Much as the case was pulled, stretched and twisted, the material did not break or tear, and it really took some abuse."
Sailing Today Magazine Gear Tried & Tested, UK
Unsere Marken