Tablet-Case slim with Headphone-jack for iPad™
Details:
fits for all iPad™.
in our new grey foil.
the touchscreen works through the foil.
Designed with a built-in external headphone jack for your earphones
with a standard 3.5mm plug outside and a 3.5mm socket inside. So you can listen to your favourite music at the beach, pool or even in the bathtub.
with Lenzflex-foil on front and back, exactly where the cameras are. So you can take films or make conferences with the same quality
Its guaranteed submersible to 33 feet (10 meters)
The UV-stabilized TPU material won't be broken down or discoloured by sunlight
It keeps out dust and sand too
salt water resistent
Content not included in the delivery.
*iPad™ is registered trademarks of Apple Inc.
How large is the case?
The iPad™-Case slim is designed for the original iPad™ with a sreen-size roundabout 10 inches. But will fit other tabs in the same size. To make sure you choose the right case measure circumference and height of your tablet and check out with the grafic below.
---
Sizes:
| | |
| --- | --- |
| | |
| maximal size of your electronics | size of the case |
---
Rule of thumb:
---
The IPX-norm

Swimming and snokeling: Our submersible range is all guaranteed to IPX8, which means continuous immersion under conditions of the manufacture`s choice. Imperial`s testing is to the equivalent of 5m/15ft for 1 hour.
---
What keeps water, sand & dust out?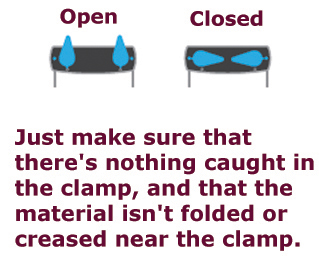 The patented Aquaclip® seals the case - with a simple twist of a couple of levers. It's been tested to the toughest international waterproofing standards. If you haven't seen one before, read our quick guide to the Aquaclip.
---
Will I really get good photos through plastic?
Yes! The special flexible lens material we use to make the lens windows is called LENZFLEX. It's optically-clear. You get a LENZFLEX window on either side of the case, so you can use your camera either way round. And the sturdy but flexible material allows you to operate all the controls.
Ok, not every photo is going to be perfect. But we're all used to that aren't we! Most of the time nobody will be able to tell you were using a case.
---
How have you improved this case recently?
2008 sees us going '100% PVC-Free'. Our new material (TPU) offers a number of advantages:
It's softer and more malleable. Making it even easier to operate your iPod controls through the material
It'll perform much better if you want to take it somewhere really cold. It'll still be soft and malleable at -40º and below
It has a greater tensile strength, meaning it's even more difficult to tear or rip apart.
Supplied with:
It comes with an adjustable shoulder strap so you can hang it over your shoulder whereever you go: beach, city, pool,other leisure activities. Or your bathtub.
in our brand new grey foil.
with inner and outer ear-plug.
with lenzflex-foil at front and back for the video-cameras of your iPad™.
---
What does shipping cost?
We ship your order in our online store by DHL or Deutsche Post.
The shipping costs are independent of the quantity as well as the weight of the ordered goods.
The shipping costs are shown depending on the country of delivery in the order process. More information here.
We ship in Germany and Europe including Switzerland.
---
How long does the shipping take?
Germany: 1 to 2 working days
Austria, Switzerland and BeNeLux: 2 to 4 working days
Rest of Europe: 3 to 7 working day
All shipping methods are traceable. Please ask us if it should take longer. If you order online, you will receive a shipping notification by email within one business day.
Overview:
You've bought your iPad™. And you want to use it and its software anywhere. Whether it's strolling in the city, on the beach, at business meetings or on the construction site. Or in the bathtub. If there only weren't water, rain, sand, dust or snow.
Here comes Aquapac: If you put your iPad™ into the Aquapac, it is 100% protected from water, sand and dust. And yet can be operated through the case. On the case front and rear there are Lenzflex windows. For video broadcasts or movies without quality loss.
And if it gets really wet and you want to listen to music, it does not matter. The headphone output also is waterproof.
An earphone-through cable is welded into the bag - the generally accepted standard phone jack. Inside the case you connect the iPad™ to the connector and outside you find the jack for your headphones - or for our waterproof ones. The external connector connected with our earphones is absolutely tight. We have tested that and got many positive customer comments.
If you like you can listen to music in a depth of down to 3 meters. Bag and headphones are even more waterproof than 3 meters but the water pressure would push the earphones into your ears. So you can absolutely rely on the seal. Nobody really wants to dive with music. Reasonable dancing is impossible down there anyway.
By the way also a great gift for swimmers, surfers and other music-loving water sports and outdoor fans.
---
What our customers say:
"I love your product because it is easy to use and it works. I now can safely listen to beautiful music when I kayak on my lake."
Sharon Vincent, USA
"The set worked perfect in pretty rugged conditions - several splats in jumping conditions and pounding surf. No water in the case and I didn't even notice the player around my neck. So... bottom line: worked perfect and easy to use."
Greg Gundlach, USA
---
What the press say:
"Introducing your iPod to life on deck is now possible with a lightweight and simple case that gives all-round protection from water, sand and dirt. The armband/belt attachment is very useful as you can listen to your favourite tunes and have all-important hands-free while moving about on board."
Motor Boat & Yachting magazine
"Hot tubs and the right tunes make beautiful music together, but often typical headphones can't stand up to the wet test. Thankfully, Aquapac has created these 100 per cent waterproof, guaranteed-submersible ear buds for worry-free water listening."
Spasearch magazine
Customer who bought this product also bought:
Unsere Marken