Large VHF Classic
Suitable for both left & right hand antenna radios.
Guaranteed submersible to 10 meters (30 feet).
It will float with your radio inside.
in our brand new grey foil.
Sound transmits straight through the TPU material.
The UV stabilized TPU material won't breakdown or become discoloured by sunlight.
Content not included in the delivery.
The large VHF Classic case is designed to accept most of today's VHF radios. It can take radios up to a maximum of 225mm /8.7 inches long. The maximum length including antenna is 400mm/13 inches. To make sure that you choose the right case check out our size guide*.
---
Sizes:
| | |
| --- | --- |
| | |
| maximum size of your vhf | size of the case flat |
*We do our best to keep our size guides up to date but of course manufacturers are bringing out new models all the time. If you know something we don't, please feel free to Tell Us about it!
---
The IPX-norm

Swimming and snorkeling: Our submersible range is all guaranteed to IPX8, which means continuous immersion under conditions of the manufacture`s choice. Imperial`s testing is to the equivalent of 5m/15ft for 1 hour.
---
What keeps water, sand & dust out?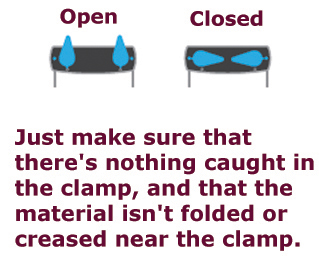 The patented Aquaclip® seals the case - with a simple twist of a couple of levers. It's been tested to the toughest international waterproofing standards. If you haven't seen one before, read our quick guide to the Aquaclip.
---
How have you improved this case recently?
2008 sees us going '100% PVC-Free'. Our new material (TPU) offers a number of advantages:
It's softer and more malleable. Making it even easier to operate your PDA or Smartphone controls through the material.
It'll perform much better if you want to take it somewhere really cold. It'll still be soft and malleable at -40º and below.
It has a greater tensile strength, meaning it's even more difficult to tear or rip apart.
We've added optically-clear LENZFLEX windows to the back making the Aquapac cameraphone-friendly.
Supplied with:
It comes with an adjustable neckcord so you can hang it round your neck.
It comes in our brand new grey foil.
It comes with our five-year global warranty (see 'Buy with confidence' below).
---
The shipping costs are independend and do not vary depending on the amount of artikles in your placed order:
Germany: 3,90 Euro
Europe incl. Switzerland: 6,90 Euro
Rest of the World: 16,90 Euro
---
How long will the shipping take?
Austria, Switzerland and BeNeLux: 2 to 4 labor days
Rest of Europe: 3 to 7 labor days
---
Buy with confidence:
This case was designed and made in the UK. We could have stuck at the standard one-year guarantee, but to demonstrate to you our total confidence in our product quality we give you a five-year global warranty. Click here to learn more.
Included with every case you will receive a User Guide written in plain English (and plain French, and plain Spanish, etc). With loads of tips on getting the best results. Click here to check it out now.
---
How could we improve this page?
If we're missing any information about this item which would be helpful, or if you have found something that is confusing or in error, please Tell Us so we can improve our site.
You have bought yourself a new VHF Radio for your boat. Great - however you need to ask yourself two questions - is it waterproof? & does it float? If the answer to one or both of these questions is NO then you need to get yourself an Aquapac100% waterproof VHF Radio case. Once your radio is safe inside an Aquapac you will be able to use the radio as normal. The airtight seal ensures that it will float in water if dropped.
---
What our customers say:
"I've used Aquapac VHF Radio cases for over 3 years now - an essential it to keep electronic items safe from corrosion regardless whether stored or in use."
Julien Fudge, Indonesia
"Well the Aquapacs are now already being used by our life-guarding team off Aberdeen Beach. And so far - Brilliant...!!!"
Tim Hollis, President, Aberdeen Surf Rescue, UK
---
What the Press say:
"Many VHF radios are water-resistant but few are waterproof… The new VHF PRO case from Aquapac picks up where water resistance quits."
Boating Life Magazine, www.boatinglifemag.com, USA
Unsere Marken