Small VHF PRO
Details:
Suitable for both left & right hand antenna radios.
Guaranteed submersible to 10 meters (33 feet).
It will float with your radio inside.
Sound transmits straight through the TPU material.
The UV stabilized TPU material won't breakdown or become discoloured by sunlight.
Content not included in the delivery.
The small PRO VHF Classic case is designed to accept most of today's VHF radios. It can take radios up to a maximum body of 180mm/7.2 inches long. The length including antenna is 330mm/ 13 inches. To make sure that you choose the right case check out our size guide*.
---
Sizes:
| | |
| --- | --- |
| | |
| Maximum size of your VHF/Handheld | Size of case flat |

* We do our best to keep our size guides up to date but of course manufacturers are designing new models all the time. If you know something we don't, please feel free to Tell Us about it!
---
The IPX-norm

Swimming and snorkeling: Our submersible range is all guaranteed to IPX8, which means continuous immersion under conditions of the manufacture`s choice. Imperial`s testing is to the equivalent of 10m/30ft for 1 hour.
---
What keeps water, sand & dust out?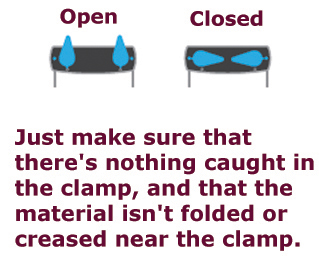 The patented Aquaclip® seals the case - with a simple twist of a couple of levers. It's been tested to the toughest international waterproofing standards. If you haven't seen one before, read our quick guide to the Aquaclip.
---
How have you improved this case recently?
2008 sees us going '100% PVC-Free'. Our new material (TPU) offers a number of advantages:
It's softer and more malleable. Making it even easier to operate your PDA or Smartphone controls through the material.
It'll perform much better if you want to take it somewhere really cold. It'll still be soft and malleable at -40º and below.
It has a greater tensile strength, meaning it's even more difficult to tear or rip apart.
We've added optically-clear LENZFLEX windows to the back making the Aquapac cameraphone-friendly.
Supplied with:
It comes with a three -way adjustable harness & an integral easy-grab handle.
---
What does shipping cost?
We ship your order in our online store by DHL or Deutsche Post.
The shipping costs are independent of the quantity as well as the weight of the ordered goods.
The shipping costs are shown depending on the country of delivery in the order process. More information here.
We ship in Germany and Europe including Switzerland.
---
How long does the shipping take?
Germany: 1 to 2 working days
Austria, Switzerland and BeNeLux: 2 to 4 working days
Rest of Europe: 3 to 7 working day
All shipping methods are traceable. Please ask us if it should take longer. If you order online, you will receive a shipping notification by email within one business day.
Made of double thickness TPU the PRO VHF radio cases are specifically designed for rigorous everyday use. Currently used by lifeguards and rescue services worldwide, the case guarantees 100% waterproof protection for your radio whilst allowing normal use.

Wear your radio on your chest using our three-way harness leaving your hands free.
---
What our customers say:
"In the windsurfing environment, we are constantly testing the limits of the safety gear, so every improvement helps. I have been wearing the bag on my back using the three strap system and it is very comfortable and convenient… I have been very impressed with your products and will continue to recommend them. I work hard to get the windsurfers and kitesurfers to carry radios and without a bag they inevitably fail, even if they are submersible rated. The other benefit is that the bag eliminates wind noise on the mic which is critical when winds are 15-20 knots or more."
Peter Thorner, President, San Francisco Boardsailing Association
---
What the Press say:
"I'm sure that, like most mariners, you've often made a grab for your handheld VHF with your hand covered in salt or fish slime. Maybe you've even dropped one over the side while doing a nautical version of a "slippery pig". Well, I found a solution for all that and more with the 100-percent-waterproof Aquapac VHF radio case… Once closed, the Aquapac not only protects your important gear, it even floats. I sent one to a diving buddy of mine and he reported that the Aquapac did what its manufacturer claimed. He was even able to use his VHF while it was inside the case."
Power & Motoryacht Magazine, USA
Customer who bought this product also bought:
Unsere Marken