Stormproof Pouch
Our stormproof pouch of Aquapacs Stormproof Range of roll-seals bags.
For all Outdoor-Fans, who won`t worry about their personal belongings like money, purse, keys or your medicine like an asthma inhalator.
You can protect you small electronics with this case, but you can´t use it through the foil.
manufactured from TPU-coated Ripstop Nylon. 100% PVC free.
Its guaranteed waterproof to IPX6, which means the bag is as waterproof as you can get without actually immersing it under water. Fire-hose proof!
The UV-stabilized TPU material won't be broken down or discoloured by sunlight.
It keeps out dust and sand, too.
Content not included in the delivery.
What fits?
The Aquapac Stormproof pouch of our stormproof range fits personal valuables like purse, keys, cards or medicine like an asthma inhalator. Or the average small phones/mobiles/cellphones and GPS units. Be aware that this pouch is only for protection. You can´t use your electronics through the foil.
---
Size of the case:
Biggest size of your electronic to fit:

w 88mm x l 115mm x d 12mm

Outer size of the bag:

w 115x l 155mm
---
Our categorization:

On tour even if it rains cats and dogs: Our stormproof range of roll-seal bags is all guaranteed to IPX6, which means as waterproof as you can get without actually immersing the bags under water. Fire-hose proof!
---
What keeps water, sand & dust out?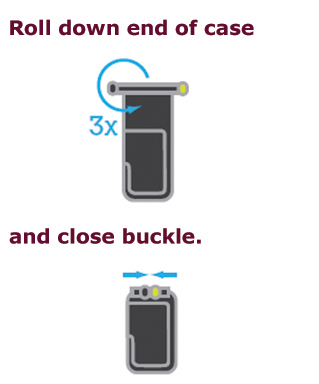 Roll down the upper end of the bag three times and close the buckle. And no rain, water, sand or dust will intrude anymore.
Supplied with:
It comes with an adjustable neckcord so you can hang it round your neck.
It comes with a beltloop.
It comes with our 5-year warranty for the case.
carabiner as an extra available.
---
How could we improve this page?
If we're missing any information about this item which would be helpful, or if you have found something that is confusing or in error, please Tell Us so we can improve our site.
---
The shipping costs are independend and do not vary depending on the amount of artikles in your placed order:
Germany: 3,90 Euro
Europe incl. Switzerland: 6,90 Euro
Rest of the World: 16,90 Euro
---
How long will the shipping take?
Austria, Switzerland and BeNeLux: 2 to 4 labor days
Rest of Europe: 3 to 7 labor days
---
Buy with confidence:
This case was designed and made in the UK. We could have stuck at the standard one-year guarantee, but to demonstrate to you our total confidence in our product quality we give you a five-year global warranty. Click here to learn more.
Included with every case you will receive a User Guide written in plain English (and plain French, and plain Spanish, etc). With loads of tips on getting the best results. Click here to check it out now.
If you're the active-in-the-Great-Outdoors type and you have to take your personal valuables like money, keys, passport or your medicine like an asthma inhaltor with you. Suddenly it starts to rain. When you use this pouch you know everythin is save. No trouble. And it protects your small electronical advice agaisnt rain, sand or dust. Please be aware that you can´t use your device through the foil, it´s just for protection.
---
Advice
If you wanna use your electronics for snorkeling or if you are not sure that the case and your electronic device inside will drop into water and submerse only for a short time, than have a look on our Aquapacs waterproof-case. This range is 100% waterproof for five meters for at least one hour under the IPX8-category.
To protect your valuables against humidity, please put a desiccant sachet inside the pouch!
Unsere Marken