NEW! Smartphone plus-plus
for the brand new iPhone Pro Max™* or S23 ultra or Note™* or previous models which you protect with a bumper like the Otter Box. Or comparable smartphones of other brands.
You can make and take calls right through the foil. And th GPS signal is also unaffected.
Even your touchscreen works.
And even the homebutton of the iPhone, have a look. The fingerprint ID do not work through the foil. Yo need your password
The Medium Phone/GPS Case will fit the older phones and GPS models or Smartphones.
It'll float with your phone/GPS in it.
It's guaranteed submersible to 30 feet (10 meters).
We've added a LENZFLEX window on the back, which means that if you have a camera-phone you'll be able to take photos right through the case.**
The UV-stabilized TPU material won't be broken down or discoloured by sunlight.
in three colors: gray with gray levers, green foil with gray clamp and blue levers or black foil with black clamp and orange levers.
It keeps out dust and sand too.
Content not included in the delivery.
* iPad, iPhone and iPod are registered trademarks of Apple Inc.
** Underwater, a touch screen does not work normally. Photo triggering is therefore only possible via buttons. In the settings of the operating systems, the photo-triggering function can be placed on the device's volume-silent button. For videos, you can turn on the function above the waterline.
---
Compare the inner size our Smartphone-Cases*:
| | | | |
| --- | --- | --- | --- |
| | | | |
| Art.-No 098: iPhone 4 / Smartphone-Case, screensize up to 4,2''l | Art.-No. 108 iPhone 5 / Smartphone-Case, screensize up to 4,4'' | Art.-No. 358: Small Electronic, screensize up to 6,3'' for iPhone or Galaxy S | Art.-No. 368: Smartphone plus-plus, for Pro, Max,, Ultra or Note |
The indications above depend on the thickness of the device. In case you use a bumper please do not forget to include it when measuring.
The Smartphone plus plus™ GPS Case fits larger smartphones, older phones or GPS models which are protected with a bumper like the Otter Box. It's the largest size of our range of 5 different sizes of phone/GPS cases. To make sure you choose the right case check out our Size Guide.
---
Sizes:
maximum size of your smartphone to fit in the case
To be sure that your device fits, please measure and compare.
We do our best to keep our size guide up to date but of course manufacturers are bringing out new models all the time. If you know something we don't, please feel free to Tell Us about it!
---
The IPX-norm

Swimming and snorkeling: Our submersible range is all guaranteed to IPX8, which means continuous immersion under conditions of the manufacture`s choice. Imperial`s testing is to the equivalent of 10m/30ft for 1 hour.
---
What keeps water, sand & dust out?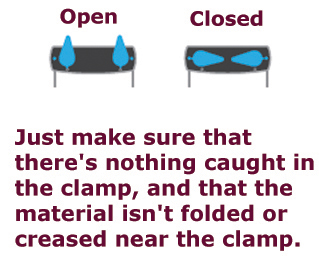 The patented Aquaclip® seals the case - with a simple twist of a couple of levers. It's been tested to the toughest international waterproofing standards. If you haven't seen one before, read our quick guide to the Aquaclip.
---
How have you improved this case recently?
2008 sees us going '100% PVC-Free'. Our new material (TPU) offers a number of advantages:
It's softer and more malleable. Making it even easier to operate your PDA or Smartphone controls through the material.
It'll perform much better if you want to take it somewhere really cold. It'll still be soft and malleable at -40º and below.
It has a greater tensile strength, meaning it's even more difficult to tear or rip apart.
We've added optically-clear LENZFLEX windows to the back making the Aquapac cameraphone-friendly.
Supplied with:
It comes in our grey TPU-foil.
It comes with an adjustable neckcord so you can hang it round your neck.
---
What does shipping cost?
We ship your order in our online store by DHL or Deutsche Post.
The shipping costs are independent of the quantity as well as the weight of the ordered goods.
The shipping costs are shown depending on the country of delivery in the order process. More information here.
We ship in Germany and Europe including Switzerland.
---
How long does the shipping take?
Germany: 1 to 2 working days
Austria, Switzerland and BeNeLux: 2 to 4 working days
Rest of Europe: 3 to 7 working day
All shipping methods are traceable. Please ask us if it should take longer. If you order online, you will receive a shipping notification by email within one business day.
Have you ever lost a phone to water damage? If not, you've been really lucky… so far! Depending on who you talk to, something between 10% and 25% of all mobile phones end up ruined by water. And that's in the general population, half of whom rarely get off the couch! If you're the active-in-the-Great-Outdoors type and you need to take your phone with you then the odds are seriously stacked against its surviving very long. Unless the phone is already 100% waterproof (is yours?) Or unless you protect it inside a 100% waterproof Aquapac.
If like a lot of people nowadays the only reason you take your phone with you in the first place is as a safety device - so you can call for help if you get into trouble - isn't it doubly important that you can trust it to work when you need it to? Check out some of the customer testimonials lower down this page and read some real-life examples of Aquapacs saving lives.
Once your phone is safely tucked up inside the Aquapac you'll be able to take it and use it wherever you want to go and whatever you like to get up to.
---
What our customers say:
"My husband works for a marina and I purchased one of these for him after he dropped his last phone in the lake. Ever since, he has someone always coming up to him and ask him where he got it. Boating time is getting near and I would like to put some in the ships store."
Susan DiGiovanni, USA
---
What the Press say:
"If - like me - you feel the need to take a phone with you into the hills, you'll need something to keep that dastardly water off. And this does the job brilliantly. It opens at the top using an extravagant-looking swing-clip mechanism that is deceptively simple to open and chunky enough to be thick winter gloves-friendly... It's waterproof to 15ft and floats, and it's part of an extensive range. What's not to like?"
Used & Abused, Trail Magazine
Customer who bought this product also bought:
Unsere Marken