TrailProof™ waterproof Duffels
TrailProof™ waterproof duffels:
Aquapacs new range of duffels: These are tough and simple drybags which allow you to pack and go, wherever you need to go
Of course waterproof to IPX 6
For travel, rafting, camping, sailing, expeditions and outdoor tours
In 3 sizes: 40 liters, 70 liters or 90 liters
lightweight: 832 g / 29,3 oz; 1086 gram / 38,3 oz; 1305 gram / 46,1 oz
They are made from tough 500D vinyl to withstand all the knocks that you experience on the trail
It is really simple to seal these duffels, just roll the top down 3 times. We have also added a Velcro® strip to make it even easier!
Four compression straps help to make a great waterproof seal
We have added simple integral carry handles
The bright colour means you can easily spot your gear amongst everyone else's, and it reduces how hot they'll get if left out in the sun.
Content not included in the delivery.
Details:
In 3 sizes: 40 liters, 70 liters or 90 liters
lightweight: 832 g / 29,3 oz; 1086 g / 38,3 oz; 1305 g / 46,1 oz
Made of 500D Reinforced Vinyl.
---
The Sizes (rollseal closed):
TrailProof™ Duffel 40 Liters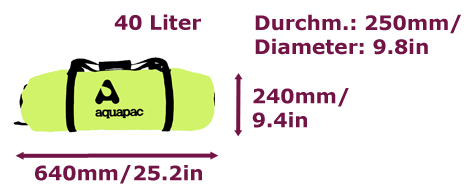 TrailProof™ Duffel 70 Liters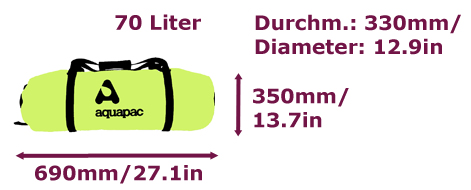 TrailProof™ Duffel 90 Liters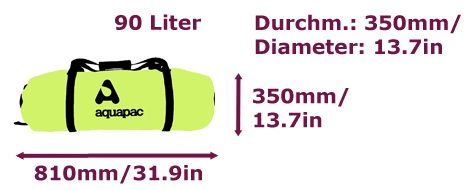 ---
What stops the water getting in?

The TrailProof™ waterproof Duffels uses a simple and well-proven roll-seal closure. You can roll it over as many times as you like but we reckon 3 times is all you need to give you a 100% waterproof seal.
---
What keeps the water out?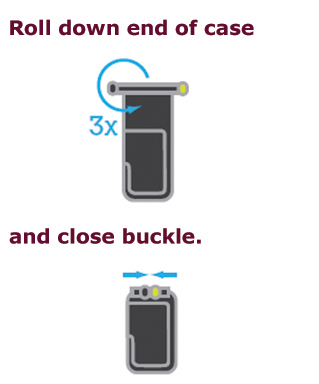 Roll up the upper end of the bag three times and close the buckle. Now, no rain or spray comes in.
The duffle in your chosen size: 40, 70 or 90 litres
in cool Acid green / cool grey
with carry handle, no shoulder straps
with roll-up closure system and velcro
---
What does shipping cost?
We ship your order in our online store by DHL or Deutsche Post.
The shipping costs are independent of the quantity as well as the weight of the ordered goods.
The shipping costs are shown depending on the country of delivery in the order process. More information here.
We ship in Germany and Europe including Switzerland.
---
How long does the shipping take?
Germany: 1 to 2 working days
Austria, Switzerland and BeNeLux: 2 to 4 working days
Rest of Europe: 3 to 7 working day
All shipping methods are traceable. Please ask us if it should take longer. If you order online, you will receive a shipping notification by email within one business day.
You can store a lot of luggage in this waterproof bag. When you are traveling, for example go on board, when rafting, camping or on expedition.
And when it rains or it gets rougher: No water will come into the bag. In the evening you still have dry clothes when it comes to eat or you let the day end comfortably. Wherever. Around the campfire.
Customer who bought this product also bought:
Unsere Marken