Waterproof Deluxe SUP Backpack
SOLD OUT! Please have a look at our waterproof backback Toccoa
A great new backpack designed especially for your SUP expeditions! Inspired by Aquapac Ambassador and adventurer Dave Cornthwaite's stand up paddleboard journeys, including a record-breaking descent of the Mississippi River in 2011 – over 2400 miles.
Capacity is 36 liters
You get a clear map pocket, with a splashproof zipper
It comes with comfortable quick-dry shoulderstraps, and a sternum strap for comfort
It's made of a super-light but tough material, and weighs in at only 21.5oz / 0.61kgs
The proven 3-roll waterproof seal attaches to compression straps on each side to help you cinch it down securely
You get a mesh bottle pocket on each side
There are four little lash points so you can secure it to your SUP board
It has a grab handle, and…
It's 100% PVC-Free!
Capacity: 2197 cu in / 36 litres
Weight: 21.5oz / 0.61kgs
Height: 15.7in / 40.0cm
Width: 11.0in / 28.0cm
Depth: 6.7in / 17.0cm
Materials: 420D PU-coated nylon
Colour: safety orange and cool grey
Country of origin: designed in the UK, made in China
---
What stops the water getting in?

For many years, the roll-down seal has been an industry standard in sealing dry-bags. We use a specially hardened seam to ensure a tight rolling action, and as long as you roll down at least 3-times your bag will be waterproof for everything up to and including temporary submersion (a raft capsizing). The more air you trap in the bag, the better the seal!
ATTENTION! The clear map pocket ist tested for IPX4 only: Water splashing from any direction - Splashproof
---
What keeps the water out?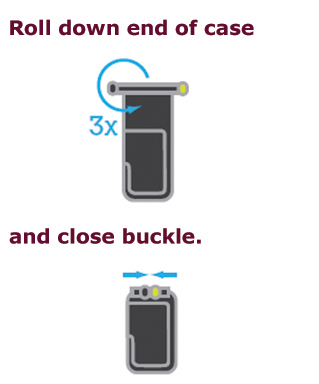 Roll up the upper end of the bag three times and close the buckle. Now, no rain or spray comes in.
---
Care Instructions
Our materials are strong but can still be punctured. Avoid sharp or abrasive objects and protect from impacts. Consider carrying Puncture Patches in your bag, to repair any damage.
After regular contact with chlorinated or salt water, or with sun creams, wash in soapy water and then rinse with fresh water. Do not use bleach, alcohol or proprietary cleaners.
---
Warning
This is not a toy. It may contain small parts which may be a choking hazard to children under 3. Keep small parts away from children.
---
Our suggestion
If you think about it... you don't want to be swimming with a big, bouyant bag on your back because it'll force you face down in the water, so please don't attempt to swim with any waterproof bag on your back.
Sam "Can`t breathe underwater" Miller, customer
Supplied with:
straps for shoulder, and hip.
4 lash points
roll seal
---
What does shipping cost?
We ship your order in our online store by DHL or Deutsche Post.
The shipping costs are independent of the quantity as well as the weight of the ordered goods.
The shipping costs are shown depending on the country of delivery in the order process. More information here.
We ship in Germany and Europe including Switzerland.
---
How long does the shipping take?
Germany: 1 to 2 working days
Austria, Switzerland and BeNeLux: 2 to 4 working days
Rest of Europe: 3 to 7 working day
All shipping methods are traceable. Please ask us if it should take longer. If you order online, you will receive a shipping notification by email within one business day.
Many manufacturers promise that their backpacks are waterproof. But how often have you been annoyed when you were surprised by a rainstorm on a hike through the mountains, the rain forest or just on the beach or when the weather report was wrong: continuous rain instead of sunshine. Because the contents of your backpack was, if not wet, then at least damp.
With the new, waterproof backpack from Aquapac this cannot happen anymore. The fabric is coated with waterproof TPU film, the seams - vulnerability of many backpacks - are taped. The proven roll seal seals the bag waterproof, because how often is the material of backpacks waterproof, but not its zippers.
When you put on the backpack and feel its comfort and ease, you know that a team of experienced researchers, sportsmen, military and outdoor experts has completed its work. Every detail has a meaning, nothing is superfluous, everything works. Your equipment, your packed lunch, dry clothes to change, your first-aid kit, pocket knife or torch: everything is safely stored at the highest wearing comfort. City or outdoors, with the scooter or bike on the way to work, with friends on a hiking tour or for the swimming bath: Your little waterproof backpack fits into any situation, into any weather.
Customer who bought this product also bought:
Unsere Marken