Daypack Toccoa, waterproof, 28 Liters
You will get:
a waterproof dayback Toccoa* with a capacitiy of 28 liters
though 500D Vinyl will resist scrapes and abrasion on the trail
all-welded construction seals out any water
Roll-down seal with side (compression) or top (maximum volume) closure. Quick and easy closure which provides excellent sealing against the elements
Mesh side pockets for drinks or quick-access items
Breathable mesh straps and padding
Lash points for lights
Daisy-chain webbing to secure carabiners to the side of the bag
Grab handle, for grabbing
in acid-green/grey, cyan-blue/black or matt black
Content not included in the delivery.
*By the way: Toccoa is a whitewater river in Georgia, USA, close to Atlanta. During the olympics in 1996 the slaloms had been hold on the Toccoa
Waterproof backsack
Capacity: 28 Litres
Planogram Footprint: W 11.96in x H 16.08in x D 7.87in / W 307mm x H 407mm x D 200mm
Colours available: acid-green/grey, cyan-blue/black or matt black
Materials: PVC
Product Weight: Total: 31.39oz / 890g
Removable waist belt: 2.58oz / 73g
Bag: 28.81oz / 817g
Case Dimensions (flat): W 11.96in x H 16.02in / W 304mm x H 407mm
---
Size: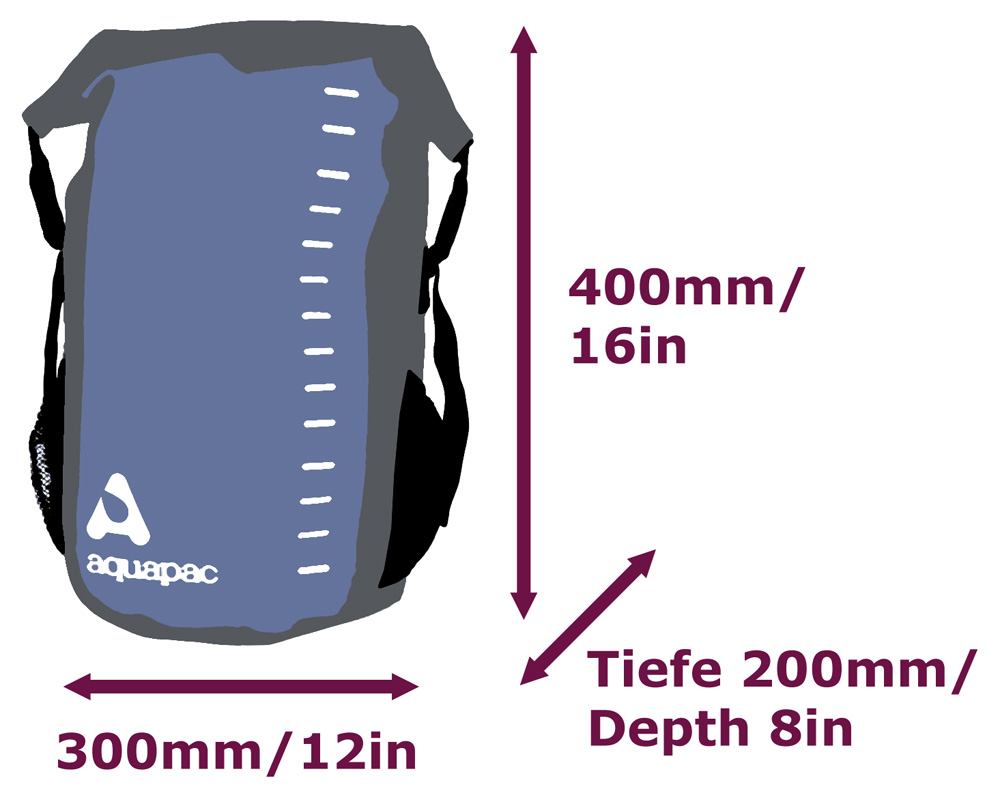 ---
What stops the water getting in?

For many years, the roll-down seal has been an industry standard in sealing dry-bags. We use a specially hardened seam to ensure a tight rolling action, and as long as you roll down at least 3-times your bag will be waterproof for everything up to and including temporary submersion (a raft capsizing). The more air you trap in the bag, the better the seal!
---
What keeps the water out?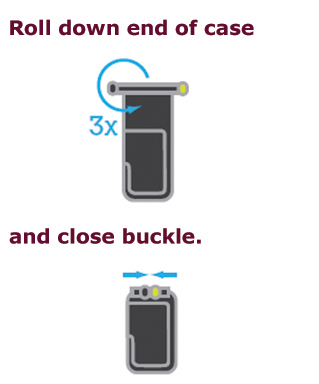 Roll up the upper end of the bag three times and close the buckle. Now, no rain or spray comes in.
---
Our suggestion
If you think about it... you don't want to be swimming with a big, bouyant bag on your back because it'll force you face down in the water, so please don't attempt to swim with any waterproof bag on your back.
Sam "Can`t breathe underwater" Miller, customer
Supplied with:
---
What does shipping cost?
We ship your order in our online store by DHL or Deutsche Post.
The shipping costs are independent of the quantity as well as the weight of the ordered goods.
The shipping costs are shown depending on the country of delivery in the order process. More information here.
We ship in Germany and Europe including Switzerland.
---
How long does the shipping take?
Germany: 1 to 2 working days
Austria, Switzerland and BeNeLux: 2 to 4 working days
Rest of Europe: 3 to 7 working day
All shipping methods are traceable. Please ask us if it should take longer. If you order online, you will receive a shipping notification by email within one business day.
Many manufacturers promise that their backpacks are waterproof. But how often have you been annoyed when you were surprised by a rainstorm on a hike through the mountains, the rain forest or just on the beach or when the weather report was wrong: continuous rain instead of sunshine. Because the contents of your backpack was, if not wet, then at least damp.
With the new, waterproof backpack from Aquapac this cannot happen anymore. The fabric is coated with waterproof PVC, the seams - vulnerability of many backpacks - are taped. The proven roll seal seals the bag and the safety compartment waterproof, because how often is the material of backpacks waterproof, but not its zippers.
When you put on the backpack and feel its comfort and ease, you know that a team of experienced researchers, sportsmen, military and outdoor experts has completed its work. Every detail has a meaning, nothing is superfluous, everything works. Your notebook, your electronic equipment, your packed lunch, dry clothes to change, your first-aid kit, pocket knife or torch: everything is safely stored at the highest wearing comfort. City or outdoors, with the scooter or bike on the way to work, with friends on a hiking tour or for the swimming bath: Your little waterproof backpack fits into any situation, into any weather.
Customer who bought this product also bought:
Unsere Marken