PRO Sports Mini / Small Armband Case Pro Sport Mini with neopren waist belt...
You can make and receive phone calls and use your GPS as normal through the case. Even a touchscreen works*
Guaranteed submersible to 33ft / 10m
The case also protects your equipment from dust, dirt and sand
The airtight seal allows your equipment to float safely on the water's surface

Standard attachment with the flexibly adjustable velcro on the upper arm.

Alternatively, with an additional neopren waist belt, 7 loops, adjustable, 125 centimeters long.

Content not included in the delivery.
* Underwater a touch screen does not work in general. Photo release therefore is possible only by key. Our tip: please download the app "Cameringo" or a comparable Apple App that allows underwater photo release on the volume button. For videos, you can switch the function above the water line.
The Pro Sports Mini (code 210) fits the standard mobile or smartphone like the iPhone or the Galaxy S2, also the average size GPS units or handheld radios.
To make sure you choose the correct size check out our Size Guide*.
The belt has a length of 12,6in/33cm.
The additional belt is adjustable, length115 centimeters.
---
Sizes:
| | |
| --- | --- |
| | |
| maximum Size of your electronic | Size Case flat |

*We do our best to keep our size guide up to date but of course manufacturers are bringing out new models all the time. If you know something we don't, please feel free to Tell Us about it!
---
The IPX-norm

Swimming and snorkeling: Our submersible range is all guaranteed to IPX8, which means continuous immersion under conditions of the manufacture`s choice. Imperial`s testing is to the equivalent of 5m/15ft for 1 hour.
---
What keeps water, sand & dust out?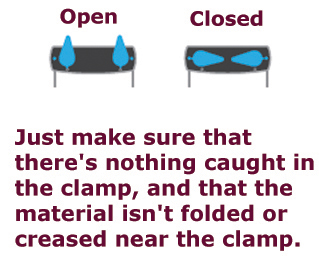 The patented Aquaclip® seals the case - with a simple twist of a couple of levers. It's been tested to the toughest international waterproofing standards. If you haven't seen one before, read our quick guide to the Aquaclip.
---
Will I really get good photos through plastic?
Yes! The special flexible lens material we use to make the lens windows is called LENZFLEX. It's optically-clear. You get a LENZFLEX window on either side of the case, so you can use your camera either way round. And the sturdy but flexible material allows you to operate all the controls.
Ok, not every photo is going to be perfect. But we're all used to that aren't we! Most of the time nobody will be able to tell you were using a case.
---
How have you improved this case recently?
2008 sees us going '100% PVC-Free'. Our new material (TPU) offers a number of advantages:
It's softer and more malleable. Making it even easier to operate your PDA or Smartphone controls through the material.
It'll perform much better if you want to take it somewhere really cold. It'll still be soft and malleable at -40º and below.
It has a greater tensile strength, meaning it's even more difficult to tear or rip apart.
We've added optically-clear LENZFLEX windows to the back making the Aquapac cameraphone-friendly.
Supplied with:
An Armband allowing you to strap the case to your arm or your equipment - so you can enjoy your activity hands-free.
Armbands can also be purchased separately - see Accessories
An adjustable neck cord so you can also tie the case to your equipment or just hang it on your shoulder.
---
What does shipping cost?
We ship your order in our online store by DHL or Deutsche Post.
The shipping costs are independent of the quantity as well as the weight of the ordered goods.
The shipping costs are shown depending on the country of delivery in the order process. More information here.
We ship in Germany and Europe including Switzerland.
---
How long does the shipping take?
Germany: 1 to 2 working days
Austria, Switzerland and BeNeLux: 2 to 4 working days
Rest of Europe: 3 to 7 working day
All shipping methods are traceable. Please ask us if it should take longer. If you order online, you will receive a shipping notification by email within one business day.
If you're into watersports or cycling, having your phone or GPS on you is sometimes essential. If like a lot of people nowadays the only reason you take your phone with you in the first place is as a safety device - so you can call for help if you get into trouble - isn't it doubly important that you can trust it to work when you need it to?
The rugged multi-purpose Small Armband case gives you guaranteed 100% Waterproof protection for your phone or GPS as well as the advantage of being able to 'wear' your phone on your arm or strap it to your windsurf or bike, so your hands are free to enjoy the activity
Once your phone or GPS is safely tucked up inside the Aquapac you'll be able to take it and use it wherever you want to go and whatever you like to get up to without even holding it to use it. Isn't that great!
---
What our customers say:
"I got my Armband Case this morning and took it out for a surf straight away. Just wanted to say I'm really pleased with it! Holds my inhaler and car keys and I completely forgot I was even wearing it. Been looking for something like this so I can take my inhaler out with me and this is by far the best thing I've found. Brilliant piece of kit! Thanks!"
Rhiannon Tate, UK
---
What the Press say:
"Gadgets and water are a bit like oil and water - they don't mix too well. Aquapac cases are one way of keeping you together with your gizmo. Top of the range are these PRO Sports cases, which are waterproof down to 30 feet. The airtight seal means that it also floats on the water's surface - very handy if you drop it overboard."
Cool Stuff, Active Magazine, UK
Customer who bought this product also bought:
Unsere Marken