NEW! iPad Mini™/Medium-Electronics foamed
brand new waterproof case. Now newly equipped with foam back. For more comfortable holding in the hand.
Ideal for protecting small essential items like your brand new iPad mini™ in all weather conditions. For smaller Mini Tabs like the Galaxy 7 please click here
everything works through the foil, even the touchscreen*
The UV-stabilized TPU material won't be broken down or discoloured by sunlight
in our brand new grey foil
Guaranteed submersible to 33ft / 10m and keeps dust and sand out
Lenzflex-foil on the back for clear pictures, even under water.
It will float safely if dropped in water.
Content not included in the delivery.
* Underwater a touch screen does not work in general. Photo release therefore is possible only by key. Our tip: please download the app "Cameringo" or a comparable Apple App that allows underwater photo release on the volume button. For videos, you can switch the function above the water line.
How large is the case?
The MediumElectronic/Whanganui case will comfortably fit ebooks, mini tablets like the iPad™, passports, suncream, wallets/purses, mobile phones and other small personal electronics. Have a look at our size-guide or at the grafic below
---
Sizes:
| | |
| --- | --- |
| | |
| maximal size of your electronics | outer size of case |
---
The IPX-norm

Swimming and snorkeling: Our submersible range is all guaranteed to IPX8, which means continuous immersion under conditions of the manufacture`s choice. Imperial`s testing is to the equivalent of 10m/30ft for 1 hour.
---
What keeps water, sand & dust out?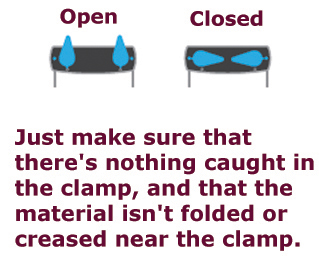 The patented Aquaclip® seals the case - with a simple twist of a couple of levers. It's been tested to the toughest international waterproofing standards. If you haven't seen one before, read our quick guide to the Aquaclip.
---
Will I really get good photos through plastic?
Yes! The special flexible lens material we use to make the lens windows is called LENZFLEX. It's optically-clear. You get a LENZFLEX window on the back of the case, so you can use your camera either way round. And the sturdy but flexible material allows you to operate all the controls.
Ok, not every photo is going to be perfect. But we're all used to that aren't we! Most of the time nobody will be able to tell you were using a case.
---
How have you improved this case recently?
2008 sees us going '100% PVC-Free'. Our new material (TPU) offers a number of advantages:
It's softer and more malleable. Making it even easier to operate your PDA or Smartphone controls through the material.
It'll perform much better if you want to take it somewhere really cold. It'll still be soft and malleable at -40º and below.
It has a greater tensile strength, meaning it's even more difficult to tear or rip apart.
We've added optically-clear LENZFLEX windows to the back making the Aquapac cameraphone-friendly.
Supplied with:
Comes with an adjustable neck cord so you can hang or tie it anywhere
in our grey foil
---
What does shipping cost?
We ship your order in our online store by DHL or Deutsche Post.
The shipping costs are independent of the quantity as well as the weight of the ordered goods.
The shipping costs are shown depending on the country of delivery in the order process. More information here.
We ship in Germany and Europe including Switzerland.
---
How long does the shipping take?
Germany: 1 to 2 working days
Austria, Switzerland and BeNeLux: 2 to 4 working days
Rest of Europe: 3 to 7 working day
All shipping methods are traceable. Please ask us if it should take longer. If you order online, you will receive a shipping notification by email within one business day.
Overview:
Great multi-purpose case, ideal for protecting your personal items such as mini pads, sun cream, a purse or wallet, cash, keys and small electronics such as MP3 Players or phones.
The Whanganui range, named after the Whanganui River in New Zealand, is a range of multi-purpose cases designed to hold a range of items.
---
What our customers say:
"Brilliant kit! Keeps my Psion palm top computer dry and safe. I was so impressed…. In the middle of a bleak Derbyshire wood and an hour long downpour that beat my rucksack I was very grateful of the superb protection the Whanganui gave my Psion and mobile phone. Thank you, unreservedly!"
John Rowe, UK
"Since I've had my Aquapac case I stop worrying about where to keep from getting wet and damaged important things like GPS, car keys or my documents each time we go on a boat trip to dive or to fish. It really helps."
Mario Jorge Marcelo, Portugal
---
What the Press say:
"If you're looking for a safe way to carry your valuables while you take a dip - or when you go boating, or bushwalking in wet weather - these Aquapac cases will do the job."
Choice review, Australia
Customer who bought this product also bought:
Unsere Marken