News
---
For decades all 100% waterproof
Negligible 231 exhibitors met in 1994 at the first outdoor fair in Friedrichshafen. Meanwhile, the fair has become the world's most important outdoor fair. From the start Aquapac TM, the specialist in waterproof cases takes part. And in more than 30 years of company history we have become the world's leading manufacturer for waterproof bags making the brand AquapacTM a synonym for waterproof cases. Meanwhile, we are represented in over 100 countries around the world.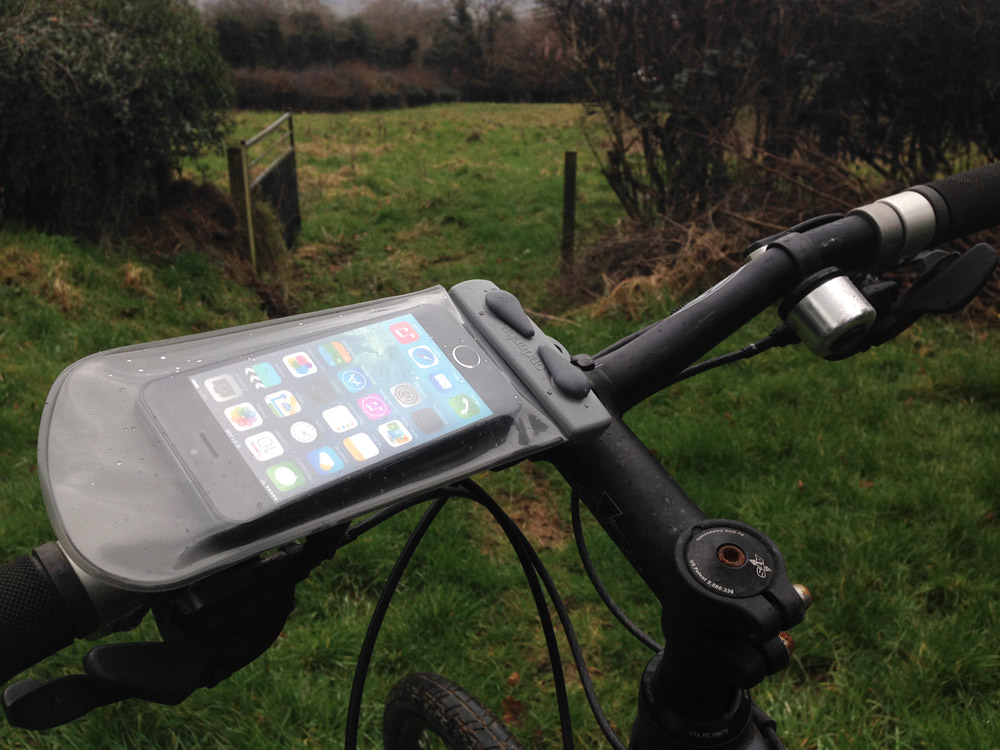 The brand new bike-mounted waterproof Phone Case
We present two new products this year: waterproof phone cases with mounts for attaching them safely on the handlebar, without your expensive smartphone becoming wet when used in rain or snow, hiking or trailing. Or downhill or any kind of water sports. Because what fits as an attachment to a handlebar, fits to any other fastening possibility of comparable diameter. The flexible click-system is mounted within a minute. The bag can be attached in almost any position and can be rotated. Deliver the rapid downhill to posterity.
In the last year, we brought a whole series of new backpacks, duffels and messenger bags on the market which sometimes premiere at the OutDoor show. And of course our tried and tested range of products will be shown. The one with global patent and unique selling proposition.
Visit us from 10th to 13th July in Hall B3, booth 302. Where we already were to be found in the last years. Or make an appointment with our management:
Petra Lichtenberg
Phone: +49 (0) 5722/981050
Fax: +49 (0) 5722/981052
Mail: lichtenberg@aquapac.de

---
Round South-America - Freya "mentally fully burnt out"
Under permanent headwind and against the current, which partially thrown her back on a trip distance of 14 kilometres, along endless mangrove forests with possible landing points in mud and silt, overnight stay only in hammocks because of the swampy ground, skin infections and then a diarrhea as well. That makes you exhausted, even if essential goals of the fourth stage such as the passage of the Amazon delta are managed. On 26 April 2014 it has happened. Freya Hoffmeister wrote on day 667 of her circumnavigation of South America:
"No paddling today despite reasonable wind. Diarrhea making me even more weak than I already was, plus being mentally fully burnt out made me deciding to take my long home break NOW. I will even have to paddle back tomorrow to reach a reasonable pick up city (Port Luis, Brazil)...I will be back on the trip in a few months!"
Have a good rest Freya!
---
Boat Show and ISPO 2014 a success: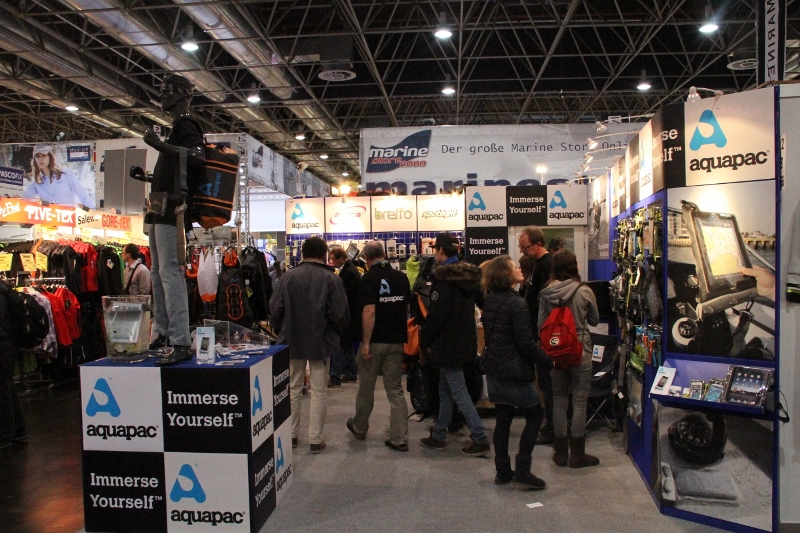 Always well attended : the Aquapac stand at the Dusseldorf Boat Show
The 'boot' and the ISPO 2014 once again have become a great success : many new contacts , many old contacts, many stimulating and interesting discussions with customers and dealers. "We are very pleased. Our range extension with waterproof backpacks , duffles and bags is very well received," says managing director Petra Lichtenberg. There is still very strong demand for the offer of the world leader in smaller waterproof cases for electronic devices of all kinds. Be it for sailing and sports or for outdoor and professional applications. Moreover, the inclusion of other brands' waterproof cases such as Aryca, Dicapac, Breffo or Spotlight also were received favourably by both consumers and expert audience. "Finally solutions for watertightness from one source" was an often heard statement the Managing Director reports on the feedback: " We will consistently carry on and bring more new products to the market later this year."
---
Even more waterproof from Aquapac-Aquaman
The new smart phones, mini tablets, e-book readers, tablets or cameras offer more and more possibilities. Except for one: they are not protected against the rigors of nature such as water, snow, dust, sand or dirt. But Aquapac can with its 100% waterproof cases and the worldwide patented closure system.
For the meanwhile 18th time at the boot Dusseldorf 2014 Aquapac-Aquaman Germany GmbH will be presenting its complete range of waterproof cases for all types of electronic devices and their special features such as full operability through the foil, undisturbed speaking and listening or full reception. There are also waterproof bags, backpacks and duffels, with which the worldwide market leader reacts on the growing demand for larger watertight and flexible containers especially in the boat sector. A new produc is presented too: our waterproof messenger bag.
New to the range are waterproof hard cases of the brand "Aryca", for those who love it harder. And the Spiderpodium of the brand "Breffo" with flexible "spider legs", a multi-functional mount for electronic devices, accompanied by the waterproof flashlights of the brand "Spotlight" with an unexpected radiance in comparison to their size.
Visit us from 18 to 26 January 2014 in Dusseldorf: Hall 12, Stand B66 (as in the previous year).
Or as a reseller make an appointment with the management:
Petra Lichtenberg
Phone: +49 (0) 5722/981050
Fax: +49 (0) 5722/981052
Mail: lichtenberg@aquapac.de

---
Local hero underlies German champion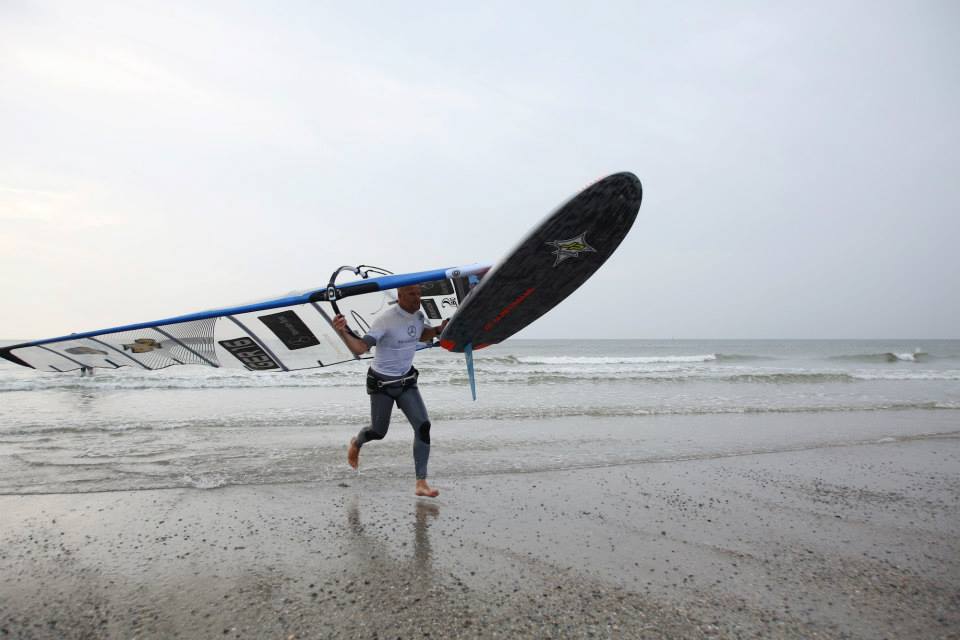 Bernd Flessner finishing the first race of "Round Norderney".
Bernd Flessner has finished the wind surfing event "Round Norderney" as second. The local hero succumbed the German master Vincent Lang after four races. At the event sponsored by Aquapac the entire German windsurfing elite started. Four days best wind conditions drove the users to up to 55 kilometers per hour over the foaming North Sea waves. So Bernd Flessner managed the approximately 35-kilometer distance in a time of almost 57 minutes, and remained the only one under the one-hour mark. The surfers were equipped with the Pro-Sport Mini by Aquapac and by the case's clear film they could determine their exact location via GPS or read their actual speed. The position data was transferred to the beach, where some 2,000 visitors attended the event.
Bernd Flessner has been sponsored by Aquapac for years. Learn more about him here.
A TV report about "Round Norderney" here.
---
The northern point of South America - and off on vacation

Freya Hoffmeister had already reached the southernmost and the westernmost point of South America. On 3 May the northernmost point followed: Punta Gallinas, Colombia. On day 472 she reached that goal. But that was it almost for the second stage. Because for 8 Mai the extreme paddler has booked the flight back to Germany. On the 2nd Stage she will no longer paddle to the original planned destination Georgetown in Guyana, which would still mean some 2300 kilometers of track.

Freya with this change of her plans responds to the heat in the Caribbean and the constant headwind of East trade winds, which has worn her down noticeably in recent weeks. Her mileage in parts went back to around 30 kilometers a day, where she managed 50 kilometers or more otherwise. To avoid the heat of the day she began her stages at night around one o'clock to be off the water at eleven. She hardly found sleep during the day: insects stung, it was too hot in the tent. And she did not have the desire any longer to make photos. So leave and regenerate.

Which will take until August. Then it goes on in two stages and not as previously planned in one. Instead of reaching the starting point Buenos Aires on her 50th Birthday on 10 May 2014, it will probably be end of 2014 until Freya can complete the circumnavigation of South America. 'Nonstop' anyway was never spoken of by the strong woman ...
Happy Holidays!
---
First Cape Horn - now the Panama Canal: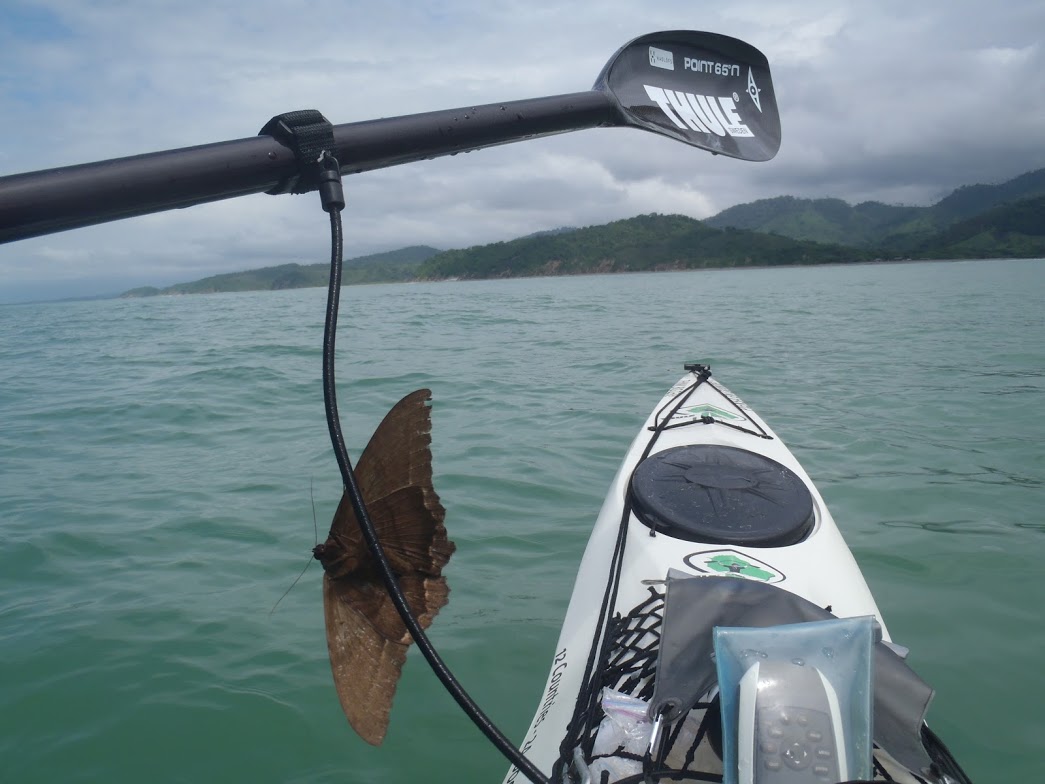 Freya Hoffmeister is sponsored by Aquapac to protect her electronical equipment.
Freya Hoffmeister handled a substantial part of her second stage around South America: the Panama Canal. No more rough Pacific waves under the keel, but the blue waters of the Caribbean. Getting from one side to the other, was an adventure. Because getting the authorities' permission to paddle the Panama Canal protracted. On a whim, she decided to bypass the "permission" with the help of friends. Shortly behind the first big lock behind Panama City, the kayak was launched. Using side arms and channels she paddled the Rio Chagres into the Caribbean - undetected and without difficulty.
Waiting for Freya in the Caribbean: The constant trade winds with four to five knots. Pure headwind which one day forced her to cancel a started stage and to return to the starting point. For security reasons her blog is updated with two days delay, landing points are not specified.
Freya is now 428 days under way (18 March 2013) and has nearly 14,000 kilometers behind. In front of her are still 3,100 km until the end of the 2nd Stage: Georgetown Guyana.
Furthermore good luck!
---
Aquapac at 'boot' Dusseldorf and Munich ISPO 2013:

In a double pack the Aquapac-Aquaman Germany GmbH was active in the past few days: At the 'boot' in Dusseldorf and at ISPO Munich. "Both shows have been a success" said managing director Petra Lichtenberg. "At the boat show we aroused a lot of interest, which rivaled the best results in 2012. Still in demand is our waterproof iPad case, as more and more skippers use navigation software on their tablets and smartphones. Cheap alternatives to expensive navigation devices."
At ISPO we presented the new products to the audience that will be on the market later this spring. Our 25-liter backpack gets a small and a big brother: with capacities of 15 liters and 35 liters. There are also three new duffle bags in the sizes 40, 70 and 90 liters, of course, like everything by Aquapac waterproof to the IPX7 standard. And as there must be order in the containers, four waterproof bags in sizes of 2, 4, 7 and 13 liters are added to the range. The bags are marked with different colors, so the customer knows immediately what bag with which content he holds in his hand when he is searching for something inside his bag. All cases are expected soon and should be with us in March. Please take a look.
---
Freya Hoffmeister: Nearly 400 days on her way

Freya Hoffmeister is on day 390 of her South America circumnavigation and has reached Colombia a few days ago. The Panama Canal is now within reach. In her arms she has got over 12,000 miles and almost another 11,000 kilometers are still ahead. She spent Christmas at home with son and family. Since her return, she is solo on her way again. Her friend, the Dane Peter Unhold no longer accompanies her. The aim of the second stage is Georgetown, Guyana.
The whole story

---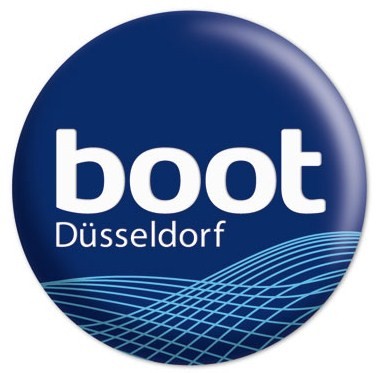 Aquapac on the Boot 2013: New Case for iPad Mini
The market leader in waterproof bags will again be represented at the Boot Dusseldorf 2013, for the 17th time. New in our program we will have an iPad Mini Case which will be released in april'. And of course, our proven range for protecting electronic devices such as smart phone, tablet, camera or pouches. Or backpacks and drybags. All water-, sand- and dustproof. And through the clear material all equipment remains working.
Visit us from 19 to 27 January 2013 in Dusseldorf: Hall 12, Stand B66 (as last year).
Or make an appointment with the Board:
Petra Lichtenberg
---
Freya Hoffmeister on the 2nd stage: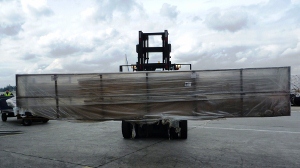 After a long wait Freya's new kayak finally arrived in Valparaiso.
Extreme athlete Freya Hoffmeister has started the second stage of her South America circumnavigation. On 25 August 2012, she put out to sea in Valparaiso, Peru. A week earlier than planned. And although her ??new kayak was initially lost on the air transport and she had to wait for the Peruvian Navy's permission??.

No matter: Now 8000 km lay ahead of her. Along the coasts of Peru, Ecuador, of course across the equator, and then Colombia before passing through the Panama Canal to the Caribbean and taking the waters of the Atlantic again under the keel. In May 2013, she wants to reach Georgetown, the capital of Guyana.

Again she has packed her complete electronic equipment - of course - in Aquapac's 100% waterproof cases.
The whole story

---
Freya Hoffmeister at the "Outdoor-Summit"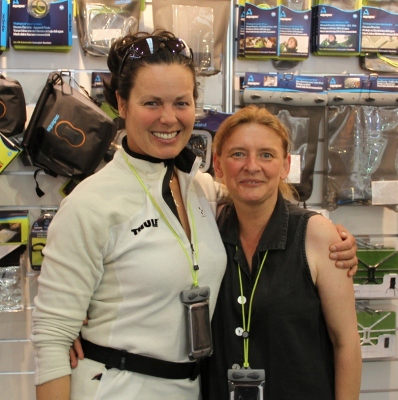 Freya Hoffmeister (left) with Aquapac-Deutschland CEO Petra Lichtenberg at the "Outdoor 2012" which was - once again - a success.
8000 km paddled at a stretch on her first stage around South America, but not a single callus on the hands: So Freya Hoffmeister appeared at the outdoor 2012, when she paid her sponsor, the Aquapac-Aquaman Deutschland GmbH, a surprise visit. "They are all gone", she joked in a good mood, "And that dark tan on my hands too."
Freya Hoffmeister already prepares the second leg of her kayak trip around South America. As the first person in the world. On 17 August, she flies to Valparaiso, where in May, her first stage from Buenos Aires to Chile ended. On 1 september 2012 the second 8000 km start: to Georgetown in Guyana, where she will arrive in May 2013.
She used her stay with Aquapac to gather information on the latest products. And to leave her "wish list" for the safe and waterproof housing of her electronic devices such as Smartphone, GPS, satellite phone, iPad or maps. The extreme athlete says, "Absolutely proven bags which I can count on."
---
Aquapac at the Outdoor-"Summit"
This year again the Aquapac-Aquaman Germany GmbH will be on "the summit of outdoor business": The OutDoor Friedrichshafen. As from the beginning. You find us - the market leader in waterproof bags - on the new location in Hall B3 -302, where we will present some new products:
And of course, our proven products protecting 100% from water, dust, sand & Co. and allowing to use the devices as usual including touch screen.
Visit us on 12 to 15 July in the city on Lake Constance in Hall B3-302 for an informative talk and a Pimm's. Or make an appointment with the management:
Petra Lichtenberg
Or just stroll in: for a nice talk and a Pims.
---
Freya Hoffmeister finished the first leg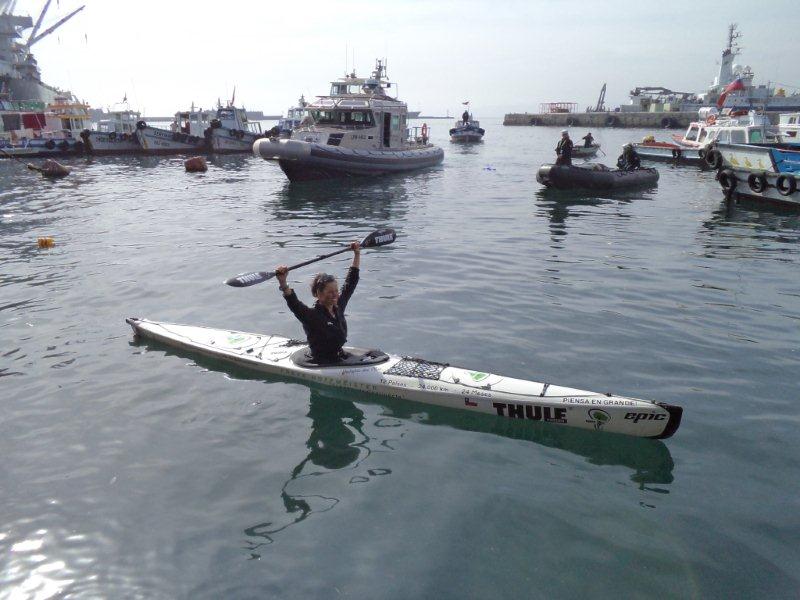 Freya Hoffmeister at Valparaiso, the end of her first leg of her race "round South-America
Freya Hoffmeister has done it again. She has completed the first leg of her South America circumnavigation. On 3 May 2012, she landed at 18.45 clock in the port of Valparaiso - after 247 days and 7676 km. Congratulations!
The big shindig with spectators and the press was cancelled for the extreme athlete came a day earlier than expected. The reason was to high waves, which made ??it impossible to land at her original landing site. Spontaneously, she paddled further and reached Valparaiso. Where again there were troubles in landing. Finally the Chilean Navy helped. They heaved Freya's Kayak on a zodiac, which was then dragged over concrete steps on land. All safe in the harbor.
"Ick bün all do," said the Husum girl in the broadest Low German accent at the end of the first stage which has offered plenty of highlights so far. Like the rounding of Cape Horn under extreme wind and weather conditions on New Year's Day.
The next day the "offical arrival" was celebreted with officials of Chile and the press. In the next few days it goes back to Husum, where her son has priority. But then also the preparation for the second stage, which is going on in fall. Another 16,000 kilometers are staring Freya Hoffmeister in the face ... More here.
---
Janice Jakait - she did it!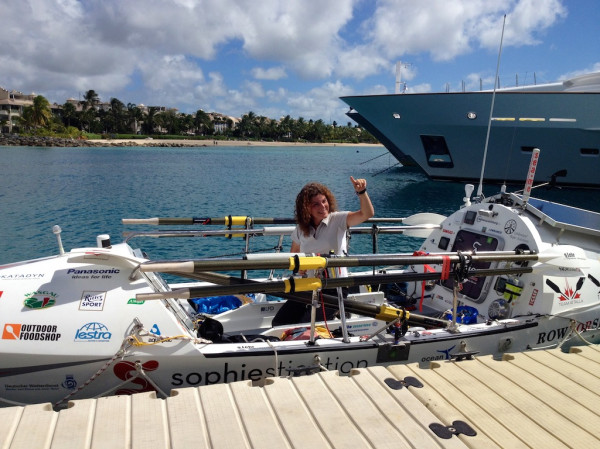 Janice Jakait at her arrival at Port Charles, Barbados - after 90 days on the atlantic ocean

Janice Jakait did it: As the first German she has crossed the Atlantic Ocean in a rowing boat. Today, 21 February 2012 at 1:36 local time she arrived at Port Charles in Barbados. 6309.9 km and 90 days, five hours and 38 minutes on the deep sea lying behind the extreme athlete. Janice: "Now I'm looking forward to a warm shower and a non-wavering bed."
Aquapac had equipped Janice Jakait with waterproof bags for her crossing.
Congratulations! Well done, an admirable performance, both physically and mentally. More infos

---
Aquapac - a must-have
"Very good," this is the balance of Aquapac for the 'boot' Düsseldorf. After the most successful participation in the world's largest trade fair for water in 2011, the result was even topped in 2012. More visitors and traders than ever before visited our booth and found out about our waterproof products. Hardly anyone went away without having shopped.
Our new iPad case which celebrated its premiere on the boot attracted great interest in particular. The waterproof headphone jack and the photo-neutral material for the camcorders convinced the top-class audience as well as the sleek cut of the bag, precisely adapted to the dimensions of the iPad. As in 2011 our mobile phone case 108 and our iPad case 668-i were the most sought after items. New customers were astonished that even the touch screen works through the case and that there is no impairment of speech, hearing or photo quality. "I'll take it," was a phrase often heard.
CEO Petra Lichtenberg is more than satisfied. "Just great. We as the market leader will consistently follow our path and offer our customers the best quality and safety. This feedback and the many good conversations are another incentive."
It is already clear: Aquapac will also be on the boot in 2013 - for the 17th time. For those who want to make a note already: From 19 to 27 January 2013, Hall 12, B 66.
---
Freya Hoffmeister 'round Cape Hoorn - on new years day 2012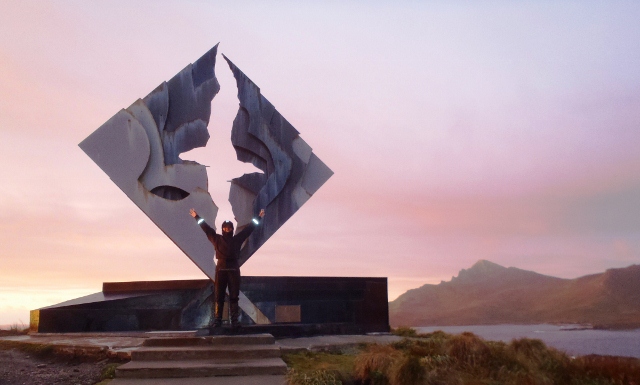 She made it on new years day 2012: Freya Hoffmeister at the "Albatros", Cape Hoorn in the background
Freya Hoffmeister has achieved a very important milestone in her circumnavigation of South America: Cape Horn. On New Year's Day 2012, the 47-year-old landed her kayak on the island of Isla Hornos, the southernmost island of the Chilean mainland. Two days later, the Husum girl, which is sponsored by Aquapac Germany since years with waterproof bags, put in on the Isla Wollaston at the local navy station. She completed the circumnavigation of Cape Horn, which is known as one of the most dangerous seas in the world due to constant storms, strong currents, fog, rain and wind speeds in hurricane strength.
Experiences that Freya Hoffmeister made firsthand. With up to 150 kilometers per hour wind speed as she only became aware after she paddled with her nut shell over the open water, with great difficulty reached a rocky beach on Isla Deceit: "Somehow and unharmed," as she writes in her blog. There in a storm she waited in a small tent for better weather, to get back on the water. What was at first impossible. The constant noise of the up to 5 foot rolling in waves mentally exhausted her. Sleep and food were unthinkable. The next day the wind finally decreased a bit. One of the four options checked seemed "80 percent" sure enough to come back on the water.
What finally succeeded. Another eleven kilometers to paddle, then she reached the landing site on the Isla Hornos where cruise tourists go ashore. Finally a New Year's Day meal with all the bells and whistles, no noise and dry clothes. And a hot shower! And a safe way to cast off for the next island. Now it's back to Puerto Williams, the administrative center of Tierra del Fuego. And then further counterclockwise up the Chilean coast to Valparaiso, the destination of her first stage. More infos.
---
New on the boot 2012 from Aquapac: iPad case with headphone port
The market leader in waterproof bags will as usual be represented at the 2012 Düsseldorf Boat Show, now for the 16th time. In addition to our established range for protecting electronic devices such as smart phone, tablet, mobile phone, GPS, and camera or pouches, backpacks and dry bags, we present a new case for your tablet: with new built-in headphone jack, so that you don't have to expose your device any longer to water, sand or dust, but still can listen to music. Of course - as before - your tablet is fully functional through the case's clear material. And for those who want to make video conferences on the beach, we now have integrated our proven Lenzflex material in the case's front and back for unimpaired photo and video quality.
Visit us from 21 to 29 Janaury 2012 in Düsseldorf: Hall 12, Stand B66 (as in the previous year).
Or make an appointment with the Board:
Petra Lichtenberg
---
Janice Jakait, Freyas Hoffmeister & Andreas Gabriel: Three want to write history:
Freya Hoffmeister, Janice Jakait and Andreas Gabriel: Three names you should remember and which will make headlines in the coming months - and they already do. All three face challenges, which previously were faced by no German and no woman in the world. And: All three Germans are sponsored by Aquapac with waterproof bags on their trips.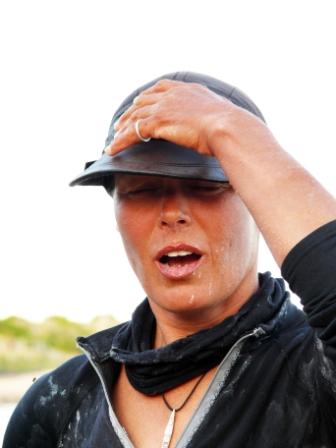 Freya Hoffmeister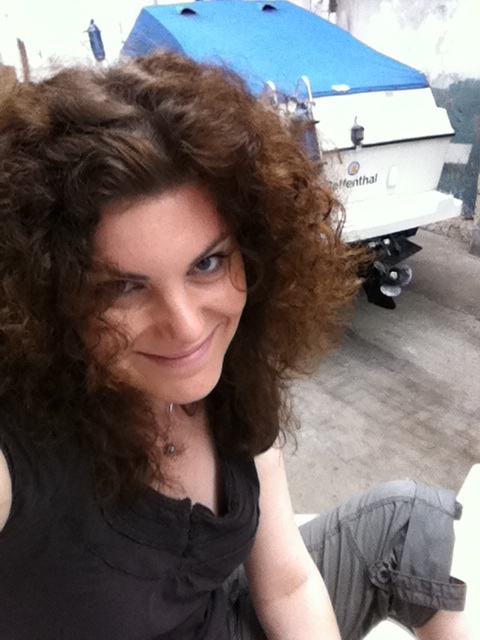 Janice Jakait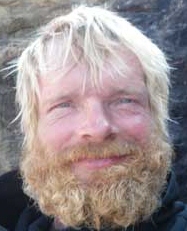 Andreas Gabriel
Freya Hoffmeister is currently circumnavigating South America in a kayak, including Cape Horn! The first human being who ever tried it. It is 70 days beginning November 2011 and after takeoff from Buenos Aires, Argentina, she already has half of the argentina-coast behind her on her way to the Cape. After the Cape's circumnavigation she will paddle up to Valparaiso, Chile, where she will arrive in September 2012. Then there is a pause before it goes on in early 2013 to create a total of 22,000 kilometers: more infos.
Janice Jakait starts on 21 November 2011 from Portugal to Antigua in the Caribbean, the first German to cross the Atlantic in a rowing boat. She is four months at sea, to row the 6,000 miles. Her adventure is under the motto "row for silence" with which she wants to draw attention to the increasing pollution of the oceans through noise and to the protection of whales: more infos.
Andreas Gabriel has been enroute since May 2011 to go round large parts of Europe in a double-catamaran-kayak. His motto: "Sailing against prejudice." After starting in Husum, he has already left behind Rhine, Main, Danube, Black Sea, the Bosporus and the Aegean including Mykonos having reached the Corinth Canal early November. From there it goes on to Italy, Spain, Portugal and the Bay of Biscay, up into the North Sea and back to Husum. Russia failed because he did not get visas ...: more infos.
---
Aquapac at the Outdoor Friedrichshafen 2011
As in previous years

Aquapac

will be

represented again this year

at the OutDoor

in

Friedrichshafen

-

the outdoor

fair for

all retailers

worldwide

.





The market

leader

will

show

the

Stormproof range

as

its

new

product line

,

also

the

new gray

material

of

the Waterproof

range.

The new

corporate identity

including a new

logo

and slogan

will be presented

to our visitors

.

Of course,

all

products are water

and dust proof

i

n proven

Aquapac

quality.





The

exhibition

runs from 14

to 17

July.

We are happy to

receive

your

appointment

for your visit

.

You'll be surprised

what

's new. Please

visit

us

in Hall

B1

-414.



---
Boot Düsseldorf 2011
For Aquapac it was the most successful participation in the Boot-Show in Dusseldorf to date. We have never had so many visitors to our newly designed booth. They could find out everything about the waterproof bags and use the opportunity to learn about our new look, the new color of our cases and the new storm-proof range. The most popular cases were our phone case 108 and the new iPad case 664-i. Particularly new clients could not believe their eyes, when they noticed that even the touch screen works through the case, and that there are no impairments of speech, hearing or photo quality. "I'll take it, " was an often heard phrase.
Managing Director Peter Lichtenberg was accordingly satisfied. "Just great. Customers know that they get the best quality and safety from the market leader. An incentive for us to continue our way consistently and to care for the best satisfaction of our customers. "
It is already clear: Aquapac will also be on the boat in 2012, for the 16th time.
---
Aquapac 2011: Stormproof? Or rather waterproof?
New appearance, new film material for the approved waterproof range, and with the Storm Proof Range a new product range from January 2011: Three updates will be presented on the Boot Dusseldorf 2011 by Aquapac, Your manufacturer of waterproof bags for protection of your electronic devices and your personal valuables.
Waterproof-Range: Aquapac here relies on proven methods. For 27 years, the waterproof bags with the worldwide patented Aqua clip are on the market: submersible to five meters and also protecting against sand and dust. The bags are tested under the IPX8 standard, the highest industry standard. The film of the bags is still made from TPU, that is absolutely free of PVC. The Waterproof range is delivered in a fine gray from January 2011. Just the right app to waterproof iPad, iPhone, Android phone, mini-or SLR camera, PDA or GPS & Co. and still use the device through the clear film without further restrictions.
Stormproof-Range: With the Stormproof Range with its roll-up seal closure system Aquapac has expanded its range, especially for the outdoor sector. There, where rain, splash water, mud, sand and dust are to be expected, but you don't necessarily have to go underwater with your mobile phone, camera, GPS, tablet PC, or the personal belongings. In addition to various smaller bags for all sorts of electronic devices there is a new waterproof, very lightweight backpack with 25 liters and waterproof bags up to a size of 35 liters. Backpack and bags are distinguished by the fact that you can separate wet / dirty items from clean / dry ones with inside pockets. For the first time Aquapac also offers three padded, waterproof camera bags: for your mini up to the SLR camera.
The Stormproof range is tested by IPX6 standard which means it that is unharmed when besprinkled with a fire hose. The film is made of durable nylon PU. As with the waterproof series, all buttons, rotary switches and touch screens can be operated through the case. The photo quality is not compromised. Cases are delivered in the colors gray or orange. The series will be available from January 2011.
Visit us at the Boot Dusseldorf from January 22nd to 30th in Hall 12, Stand B 66. Or arrange an appointment:
Petra Lichtenberg (MD)
---
Aquapac makes your iPad 100% waterproof
Go on the net anywhere with the all-new iPad, check or send e-mails, listen to your music or read an ebook: all the things you've always wanted. If there were no adverse circumstances outdoor waiting to finish off your new acquisition: water, rain, sand or dust.
Das spezielle, weltweit patentierte Verschlusssystem verhindert, dass Wasser oder Staub eindringen können, und das iPad oder auch jeder andere Tablet-PC Schaden nehmen kann.
Everything no longer a problem if you rely on the 100% water- and dust-proof Aquapac bag, the iPad Case. The special worldwide patented closing system prevents water and dust ingress so that neither the iPad nor any other Tablet PC will be damaged.
At the same time, you can operate your device through the clear film. Touch screen, keyboard, filpping ebook pages, Bluetooth or sound: Everything works as normal without sacrificing quality. You only have to keep in mind that the closed bag of course does not let in fresh air for cooling. So users don't need to worry if they lie on the beach or if they are surprised by a rain shower.
The Link to your iPad-case

---
Aquapac at Outdoor Friedrichshafen2010:
Like every year, Aquapac will be at the Outdoor Friedrichshafen, the fair for retailers and customers. We will present six brand new developements to our customers. Please have a look at hall B1-414.
---
Aquapac at "boot 2010" in Düsseldorf
The market-leader for waterproof cases Aquapac strikes a positive balance of the fair "boot Düsseldorf 2010". The trend of 2009 with a growing number of visitors and dealers continued. Lots of counseling session were hold: with consumers and dealers. We listed lots of acquisitions. Some visitors came the third or fourth time to our booth to buy their Aquapac-Cases personally.
Best running products are our iPhone-Case and our camera-bags. But also our waterproof bag, the Noataks, and our waterproof backpack was asked for frequently. Lots of dealers found their way to Aquapac, too. We are expecting that Aquapacs will be representend in much more communities in the following month.
"The interest for Aquapac waterproof cases is undaunted", as the managing-director of Aquapac-Aquaman Germany Petra Lichtenberg stated: "Consumers and dealers bank on our brand quality." For Aquapac it was the 14th appearance on the world biggest fair for watersport.
---
Freya Hoffmeister: Race around Australia is done!!!
Congratulations Freya!!!! Freya Hoffmeister has done it: Today (December 15th, 2009) the German sea kajaker finished her race around Australia. 14000 kilometers of paddling around the fifth continent. At noon she landed at Queenscliff close to Melbourne where she startet on the 18th of January. In one of her first interviews she said: " I am happy. And I am tired. I am happy not to be paddling any more, but it was worth the risk."
Freya is supported by Aquapac-Aquaman Germany with waterproof cases for the safety of all her electronic equipment for years now.
If you wanna have a look on a video of her arrival, please click

---
Which Aquapac cases are on board of Freya Hoffmeisters kayak:
All of the electronical equipment of Freya Hoffmeister like VHF, GPS, Cellphone, camera or maps are packed in the waterproof cases of Aquapac Germany. The cases made its job very well, as Freya Hoffmeister wrote in a mail. During her trip we send her some new ones, while some get damaged during very rough landings. Here a message of Freya:
"Hallo Petra,
Aquapacs allover my luggage, vielen Dank! Und jeder bewundert, (oder bedauert?) die vielen electronics, die ich so mitführen muss, aber sie werden täglich ziemlich hard benutzt! Der large whanganui case ist meine Kartentasche, die täglich auf meinem Deck ist. Die leckt inzwischen irgendwie, ich kann nicht herausfinden, wo und wie. Ich könnte eine oder zwei neue gebrauchen! Und die large VHF classic hält mein Motorola-Satelliten Telefon, das wird auch ordentlich täglich strapaziert und hat schon mehrere reparierte Lecks. Ein oder zwei neue wäre fein!
Vielen Dank!!!
Freya
If you wanna have a look what kind of Aquapacs Freya got on board and used for which reasons, please have a Look.
Sally Turner lost her camera overboard during a sailing rescue. Jon Puckey found it 2 weeks later 12 miles down the coast - still safe and sound in its Aquapac
---
What a customer experienced with her Aquapac:

Dear Sir or Madam

I am enclosing the Aquapac Camera Case which I have been using this year when sailing, as I think that you may be interested in its story.

On 24 August 2008, it was lost overboard from our club safety boat, during a rescue in very rough conditions off Pentewan, Cornwall. The clasp of the dry bag it was in had snapped.

On 7 September, it was discovered wedged in rocks on the beach at Talland Bay by Jon Puckey. He was amazed to discover that inside the case, the camera was still dry.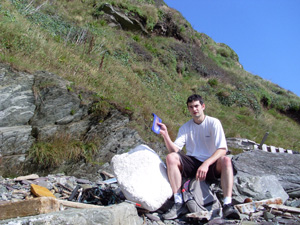 John Puckey shows where he found the case
Using the memory card, he uploaded the pictures, numbering about 100, and together with his family, managed to deduct that we probably lived in Fowey and, due to pictures of the Red Arrows taken from our property, were even able to pin point the house. The family returned it to me yesterday.

We estimate that the camera and case had covered, at the very least, twelve miles eastward along the coast before coming ashore! As you can see from the condition of the case, it suffered quite serious scouring among the rocks!

So, I have my camera back, together with pictures which I had not yet transferred to my computer, so I am delighted and have met some lovely people.

Best wishes

Sally Turner
---
Boot 2010 at Düsseldorf: hall 12, box H 21
Also in 2010 Aquapac-Aquaman Deutschland GmbH is at the boat 2010 at Düsseldorf, the world greatest boat-fair and watersport for consumers and retailers. The fair lasts from 23rd to 31st of January 2010. We present our waterproof cases the 14th times . Brand new is Aquapacs waterproof backpack, which was launched in summer 2009.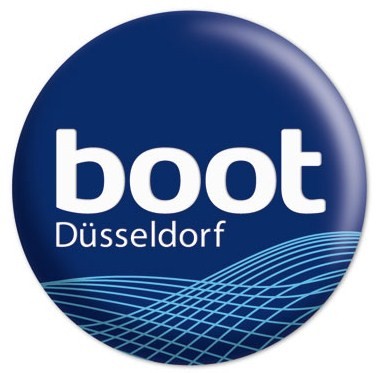 Take a visit to hall 12, booth H 21
---
Race around Australia: German kayaker Freya Hoffmeister nearly at home!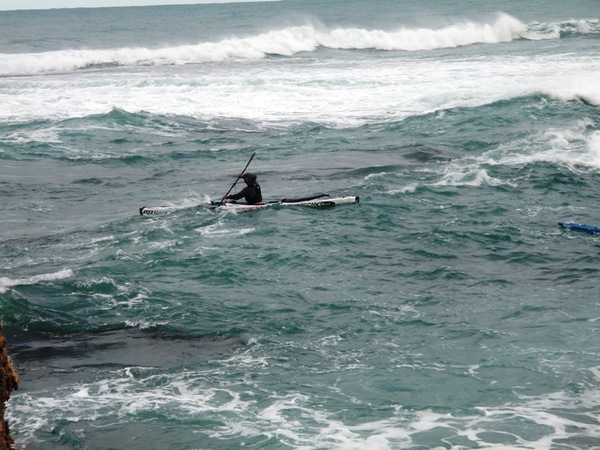 German Kayaker Freya Hoffmeister is on the 250th day of her trip around Australia. And she is close to be the first woman who ever done it. She is on the 12th stage from Perth to Esperance. In Perth were waiting several additional Aquapacs. Her whole electronical advice is stored secure in our waterproof cases.
On september 24th she took a stepstone: the surrounding of Cape Leeuwin. Two days she has to wait for reasonable weather conditions. Normaly there a clashing waves of about 30 fts. against the cliffs. And shortly under the surface are waiting dangerous cliffs, too. On day 249 the weather and the waves were okay. Dozens of people were waiting at the lighthouse to witness the historical surrounding. And Freya managed it without any problem. When she reached land she jubilate: "I made it!!!! I´m on the homerun now". Congratulations from the whole Aquapc-Team.
And Freya goes on paddling: still 3000 km out of 15.000 left - then she has reached Melbourne. Where she started at the beginning of the year.
Wanna see how it goes on? www.qajaqunderground.com

---
Aquapac on the "boot" fair: No sign of crisis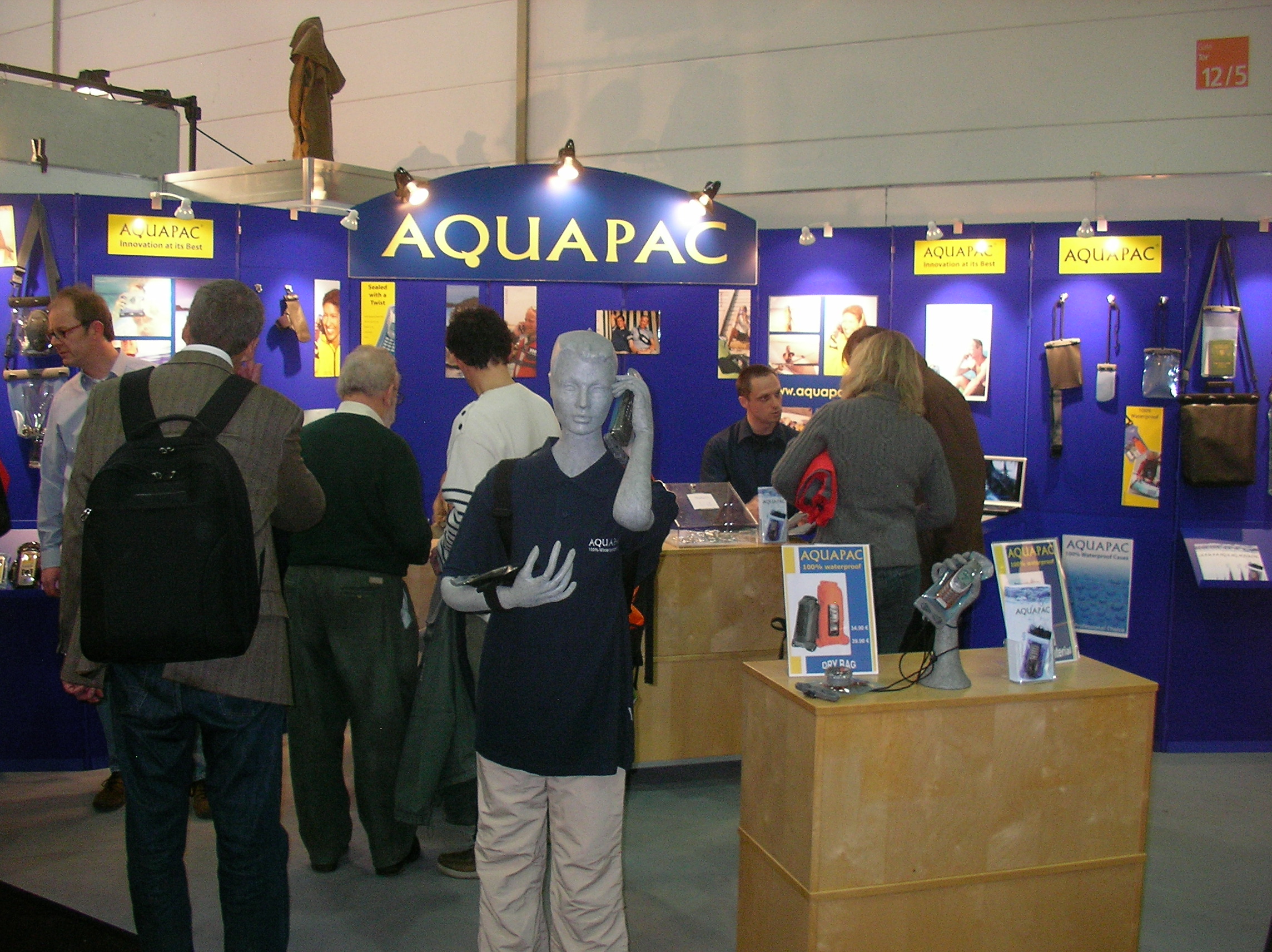 In spite of the economic crisis Aquapac was successful on the Düsseldorf "boot" fair in January 2009. Although the total number of show visitors was 10% below 2008 we had more visitors on our booth than ever before. And these people bought more than the years before. Especially our new SLR case and the new "Small Camera mit Hardlense" attracted attention. The new "Noatak" dry bags most of all surprised "old" fans as they mark a completely new range.
Managing director Petra Lichtenberg: "We had a responsive audience. Competent and more interested in the upcoming summer season than in economic crises." Her impression: "More customers tend to protect their devices with our cases because a new purchase is clearly more expensive – another form of saving. Our customers und us we don't let anyone spoil our good mood. We will attend the next "boot" again!" Our 11th by the way.
---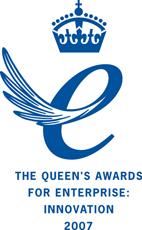 Royal Award
Aquapac wins the 'Queen's Award for Enterprise: Innovation 2007'. The Queen's Award has been described as "A Corporate Knighthood". It's the UK's most prestigious business award. The awards are made each year by The Queen, on the advice of the Prime Minister who is assisted by an advisory committee that includes representatives of government, industry and commerce and the trade unions. The awards are given solely on merit and competition is fierce. The number presented each year is not pre-set and depends on the quality of the applications received.