Latest News and Updates at Aquapac - 100% wasserdichte Schutztasche für Smartphone oder Tablet kaufen
20.05.2022 -

Freya Hoffmeister - still 32.000 kilometers to paddle
---
Freya Hoffmeister - still 32.000 kilometers to paddle
50,000 kilometers lay ahead of Freya Hoffmeister when she set out in 2017 to become the first person in the world to circumnavigate North America in a sea kayak. She has now completed 18,000 kilometers in May 2022. She started in Seattle and has since circumnavigated North America in two half circles, eventually completing both half circles on the North Coast. Where else but in New York, virtually under the torch of the Statue of Liberty. "Seven, eight years" will probably still be needed, she says this spring. Originally, she planned to complete the whole trip in about ten years.
In the meantime, she has come as far south as Puerto Sandino near Nicaragua's capital, Managua, not far from the Panama Canal, which she has already crossed in a sea kayak while circumnavigating South America. At the end of February, with day 680 of the North American circumnavigation, she finished this "leg" and has since returned to her home in Husum to take care of her two ice cream parlors.
With Aqupacs up to the Arctic Ocean
And to prepare the summer leg, which will take her from June onwards from Wainwright in Alaska, with its population of just under 600, even further up into the Arctic Ocean. This time, two women will accompany Freya Hoffmeister in sea kayaks. Human settlements no longer exist, so the food must be on board the kayaks, about 80 kilos are on board. And a pump shotgun, because the polar bears are not exactly harmless.
On board, of course, are a number of electronic devices such as navigation systems or satellite telephone. They are all safely packed in waterproof bags from Aquapac. We have been sponsoring Freya Hoffmeister with our bags for years, and have also been on board her circumnavigations of South America, Australia or New Zealand.
More of Freya Hoffmeister and her circumnavigations here
14.10.2020 -

The right waterproofs for the new iPhones™

We have it right:

On Tuesday evening, October 13th, Apple presented its new iPhone ™ models - in addition to new technology, new design and new colors also new sizes. The following models fit in the following Aquapac ™ cases:
06.06.2020 -

Protect yourself and your equipment from germs and bacteria

Protect your equipment from germs and bacteria


On average, we touch our faces 23 times an hour and our smartphones more than 2000 times a day. At a time when hygiene is more important than ever, preparing yourself to stop responding to these impulses could save lives - which is not so easy because we do it without thinking. Aquapac's waterproof cell phone cases are an excellent way to avoid cross-contamination between hands, phone and face and to reduce the likelihood of dangerous germs being brought home from work and vice versa.

The sleeves are available in different sizes that are suitable for any smartphone, tablet or radio. They are sealed watertight so that you can insert a disinfected device in the case and close it. This prevents bacteria or germs from touching your phone directly.

Aquapac sleeves are 100% waterproof and allow you to continue using your device as you normally would, including speaking and listening, taking photos and videos, and using touchscreens. The sleeves are also great for protecting keys, inhalers, medical devices and cards. The contactless function of your card even works in the case.

When you have finished your activity outside, at work or wherever and come to a safe environment, simply wash your hands and the Aquapac case thoroughly with soap. Then take out your device and use it as usual.

You can see how easy it is here.

You can find our smartphone cases here, tablet cases here

But first of all: Stay healthy!
---
08.05.2020 -

Aquapac - helps in Corona-times

Aquapac - also helps against corona viruses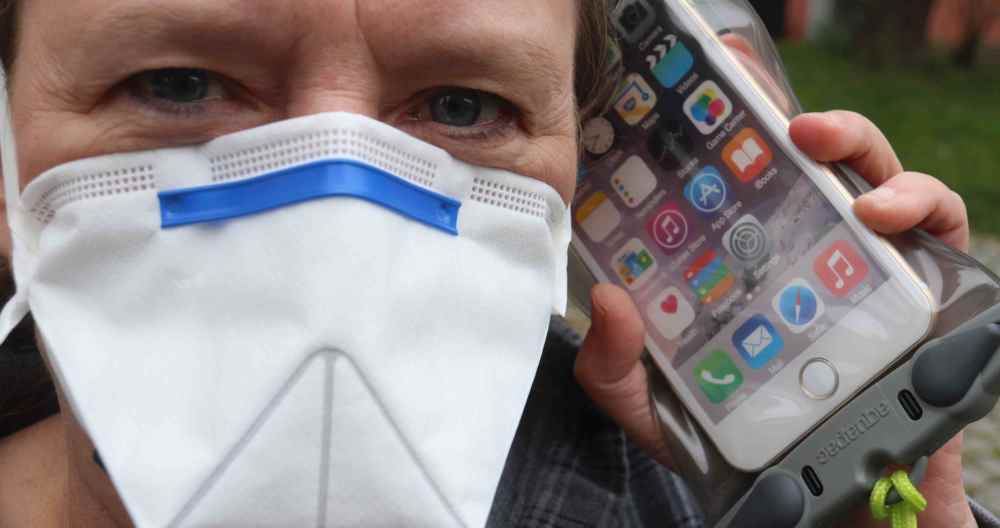 Especially in times of the Corona crisis, it is important to keep your smartphone or tablet clean. Because just like doorknobs, buttons, toilets or grab bars of the tube, the constant companions can be contaminated with germs, bacteria or viruses - or be contaminated when you are traveling with them.

Simply pack the device in the water and dustproof protective cover from Aquapac. The special TPU foil does not penetrate anything, but you can still use your smartphone as usual, everything works, including the touchscreen. Aquapacs have been used in cleanrooms, laboratories or similar facilities for years. Nursing services also use our bags to minimize the spread of germs, bacteria and even viruses.

Follow the advice of all health experts: Wash your hands thoroughly several times a day. Do the same with your mobile phone: simply rinse the Aquapac thoroughly. The foil even tolerates disinfectants or warm water. A small contribution to the further containment of Covid-19.
Click here for a Video

You can find our smartphone cases here, tablet cases here

PS: We are currently not affected by the virus and deliver as usual.
29.02.2020 -

Aquapac - also protects against viruses

Corona - Aquapac protects against virus also

Aquapacs have always been used in clean rooms, laboratories or sensitive areas as in clinics or hospitals. This is because devices such as cordless telephones, smartphones or tablets that are brought there can be contaminated with germs or bacteria, which can be responsible for damage that is difficult to repair or heal.

The reverse is also true in times of the rapidly spreading corona virus, as Aquapacs managing director Petra Lichtenberg knows. If the smartphone is packed in an Aquapac, it cannot be infected - whatever. Nevertheless, the device remains fully operable as usual. "And when you come back in the evening, just let water run over your Aquapac before you unpack your smartphone," recommends the managing director: "Just as you should wash your hands several times a day to prevent infection." In any case, you don' t have to fear no longer that you get a virus using your device.

Click here for a Video

You can find our smartphone cases here, tablet cases here

PS: We are currently not affected by the virus and deliver as usual.
07.12.2019 -

Aquapac at the boat Düsseldorf once again
---
Aquapac is dense - guaranteed

The Boot Düsseldorf has been an integral part of the calendar of water sports enthusiasts for decades. And also at Aquapac. For the 26th time we are on the boat, which this year runs from Saturday, 18. January, to Sunday, 26. January 2020 in the Düsseldorf exhibition hall. The most important thing for all those who are looking for us in our usual place in Hall 12: Through the restructuring of the boat, you will find us in Hall 11, the new sales hall. Our stand number: 11 B10.
New to the boat, we have a larger phone pocket available, the smartphone plus-plus: suitable for Max devices with bumpers or additional batteries. For the smaller digital radios, Aquapac's new Mini VHF Case is classic.
We are the world's leading manufacturer of waterproof and dustproof bags with its unique Aqua-Clip closure system. The cases are so flexible that a few millimeters do not matter if the manufacturers have once again brought new devices on the market and screwed once more to millimeters. Your device - be it smartphone, mini-tablet, tablet, VHF or camera - always fits: Try it out on our stand. And everything continues to be fully operable: the touchscreen works, speaks and hears, as well as taking photos through the photo-fast Lenzflex film on the back. Due to the air entrapment your device gains another feature: It can swim. And even if the manufacturers classify their equipment as waterproof: Look at the fine print. At Aquapac applies - without small print: submersible to ten meters, no time limit and also in salt water.

If you are traveling as a dealer, supplier or buyer of larger quantities, make an appointment with our Managing Director Petra Lichtenberg at lichtenberg@aquapac.de. Or just drop anchor at our place - we always have a mooring available. Also with coffee.
17.09.2019 -

The German champions are firm
---
Anja Kruse and Uwe-Sören Schmidt get the titles

The German championship in speed windsurfing is decided. New German Champion is Uwe-Sören Schmidt (GER-710) from Bremerhaven. He won in front of Michael Naumann (GER-14) from Warnemünde and Torsten Mallon (GER-818) from Hamburg. Hanover's Anja Kruse (GER-535) was the most successful, followed by Brigit Höfer (GER-117) from Albershausen and Gila Steinbacher (G570) from Wunstorf. Particularly pleasing is the participation of 5 adolescents / young adults in the U20 classification, the 1st secured David Homberg (GER-2101) from Bochum in front of Michel Gutbier (GER-1203) from Edertal and Niklas Holzhauer from Kassel.

Once again Aquapac sponsered the championship with his waterproof bags. At the raffle all lots were pulled out and just as quickly the prizes were awarded. As outlined by Birger Bruhns, who we sponsor for years and who is responsible for the raffle: "Water sports know just what is good!"
11.09.2019 -

New iPhones - we have it waterproof
---
It fits

Apple introduced its new iPhones yesterday. We have the right shell that makes the devices submersible up to ten meters, and that for hours. Everything remains usable through the tpu-foil, the touch screen anyway and the new camera through a special photo-proof foil. Here is an overview of what fits where:
So, who wants to have it completely waterproof from the 20th of September ....

* The product names we list here are trademarks of the respective manufacturers.
04.09.2019 -

Speedsurfers searching for their champion
---
Speedsurfers searching for their champion
Since the weekend (31.August) run in Orth on Fehmarn in the windsurfing class "Speed" the German Championships. Among the 62 participants are eight women. This is a record in every way because so many riders have never registered. Since the number of participants is limited to 65, only day visitors can now be admitted.
So far (as of 4 September), the number of official races is very "mau": The wind does not play. An official race can only be started from 5 wind speeds. The daily routine will be announced at the morning Skippers' Meeting. Depending on the wind forecast, the first race may start at 8 o'clock or the last at 17 o'clock. From Thursday, the weather forecast bids more wind - let's see what happens.
As a sponsor, by the way - once again - Aquapac. We support the drivers with our waterproof bags.
More infos here
13.08.2019 -

Help with water damage
---
"Rescue Kit" in the field test

The Einhaus group blog tested our Rescue Kit and concluded, "Data recovery on non-waterproof smartphones and other devices does not hurt to have such a rescue kit in place, whether it's always working or not it's not a guarantee, but if the precious photos and documents are suddenly locked up in a water-damage device, any means are right to recover them, right? "
The blog has "sacrificed" two functioning mobile phones and thrown them into the water: both have survived this practical test. Both devices were packaged in the Rescue Kit, both working again after the test. If you want to read the complete test, here is the Link

And here is the link to the rescue set.
06.07.2019 -

Summer, sun, sand - and thieves
---
Summer, sun, sand - and thieves: Where to go with Smartphone & Co.?

Smartphones have become our constant companions. No place where we do not take it with us, including the beach, the swimming lake the swimming pool or the pool. It would be too bad if you can not share nice moments or take pictures.
If there are no dangers lurking there: thieves, sun heat, sand and water. Everyone is after the good piece. The loss of the device could perhaps still cope, but not the loss of data.
This is where Aquapac comes into play. We can help against all four problems. Just put the smartphone, mini-tablet or tablet in our waterproof bag and take it everywhere, even into the water or underwater. The waterproof seal Aquapac even guarantees a depth of ten meters. And best of all, smartphones and the like remain fully operable through the slide, be it talking on the phone, texting, listening to music or operating the touch screen. Even the photo function is completely guaranteed by a special photo film. A photo of the reef dwellers to the loved ones? That would be something.
Our smartphone-cases here.
09.01.2019 -

Six New at Aquapac

We have a few new articles. For those who like to drive SUP and want to pack their gear waterproof. But not only for them. Take a look.

Or take a visit to our booth at the Düsseldorf Boat Show from January, 19th to January, 27th: hall 12, booth B 68.
| | | |
| --- | --- | --- |
| | | |
| Waterproof First Aid Kit Bag | Deluxe Expeditions SUP Duffel | Deluxe Expedition SUP backpack |
| | | |
| Trailproof Small VHF Pro | Waist Pack, now in black | Smartphone plus plus |